Greer's Daily Dose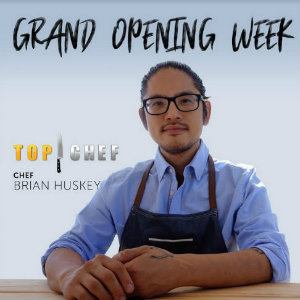 Everyone's Favorite Grub Shack Opens at SOCO
11.09.18
We're so lucky that one of Orange County's best chefs, Brian Huskey just opened a second Tackle Box location. Everyone's favorite grub shack on Shore Avenue in Corona del Mar is known for serving incredible new American snacks and seafood-centric dishes. And, now it's even more accessible location, in the former Iron Press location at SOCO in Costa Mesa is celebrating with a week-long grand opening celebration now through Wednesday, November 14.
The new location has a larger menu with breakfast, salads, grubs and snacks, sandwiches, burgers, and drinks. Favorites from the menu include with Buffalo cauliflower with celery and house ranch; Salmon "Poke" avocado, cherry tomato, red onion, crispy rice, citrus with sesame dressing; and the Brussels Sprouts with smoked almonds, pickled Fresno and soy maple. Other favorites include sandwiches such as Pork Belly "Banh Mi" ginger + scallion, pickled carrots, green papaya, and spicy aioli; "Cali" Cheesesteak with ribeye, crispy onion, and jalapeño, with white American cheese. The Vegetarian is chickpea patty with lettuce, tomato, pickled Fresno, and tzatziki.
The line-up is as follows: on Friday, Nov. 9, it's Friday Night Flights, enjoy a flight of beers for $5. On Nov. 10, it's Surfrider Saturday, 20% of proceeds will benefit the Surfrider Foundation to help keep our beaches clean. On Sunday, Nov. 11, enjoy a Bloody Mary Sunday Brunch, 50% off original Bloody Mary all day, showcasing the off menu. On Monday, Nov. 12, it's Veteran's Day Monday, 20% of proceeds will benefit the Boots for Troops Foundation, 50% off Gameday Burger all day.
On Tuesday, Nov. 12 from 4 to 9 p.m. it's Top Chef Tuesday. You can taste a delicious four-course prix fixe menu by Season 11 Top Chef Alum, Brian Huskey. RSVP and limited sitting.
Four Course Prixe Fixe
AMUSE, Trio of Small Bites.
STARTER is Coffee Roasted Beets. Grilled Persimmon. Frisée. Goat Cheese Croutons.
Or Seared Albacore. Asian Pear. Jalapeno Ponzu. Nitro Ceviche Sauce.
ENTRÉE is Mary's Chicken "Porchetta." Greens. Fingerling Potatoes, with Whole Grain Mustard Chicken Jus.
OR Squid Ink "Paella." Mixed Seafood. Spanish Chorizo. Saffron. Bomba Rice.
OR Kabocha Squash. Oven Roasted Tomato. Feta. Pomegranate. Quinoa. Fried Farm Egg.
DESSERT is a Molten Chocolate Cake. Berries. Kilt Lifter Red Ale Ice Cream.
$40 tax included.
Open 11 a.m. to 9 p.m. Monday to Thursday; 11 a.m. to 10 p.m. Friday and Saturday; 10 a.m. to 10 p.m.; 10 a.m. to 9 p.m. Sunday.
Tackle Box is at 3321 Hyland Avenue in Costa Mesa. 714.486.3301.
Tackle Box is at 3029 E. Shore Avenue in Corona Del Mar. 949.723.0502.
---
More Daily Doses