Greer's Daily Dose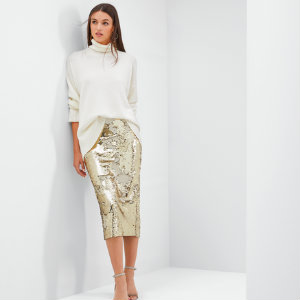 Fashions for Modern, Sophisticated Women
11.05.18
Lafayette 148 New York just opened a West Coast flagship store at South Coast Plaza. The store is the latest step in the brand's rapid retail expansion, becoming its twenty-first new retail location globally in the past six years.
You can find an extensive, thoughtfully curated edit of the latest fashion collection as well as designs ideal for California's warmer climate. Luxury statement pieces, from Italian suede and cashmere double-face coats to hand-embellished dresses and fur-trimmed knits, are refreshed monthly.
Lafayette 148's famous precision tailored suiting and separates, as well as silk blouses, clean-lined trousers, and their iconic white shirting, offer a range of outfitting options that are ideal for the modern career woman. Timeless sweaters spun in their signature blends of cashmere, silk and linen offer customers luxury without the weight. Anchoring the assortment are accessories, jewelry and the company's Italian-made shoe collection, ideal for clients seeking head-to-toe looks. The store will also carry a capsule of exclusive designs—including cashmere vests and lounge pants, a glazed lambskin coat and Italian double-face pants—available only at this location.
Personal stylists at Lafayette 148 work one-on-one with shoppers to curate wardrobes and pull edits for special events or travels, and private fittings and alterations are complimentary.
Lafayette 148 will donate 10% of each sale to girls, Inc., as well as offer guests an additional 10% off their purchase through Dec 1.
Lafayette 148 is on Level 1, near Saks Fifth Avenue at South Coast Plaza. 3333 Bristol St. in Costa Mesa. 714.868.3131.
---
More Daily Doses