Greer's Daily Dose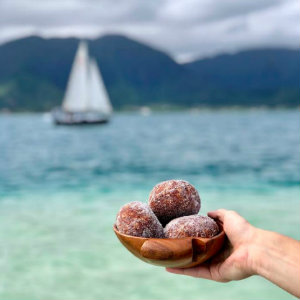 Get Your Fill of Hawaii's Culinary Culture!
08.01.18
Fill, a bakehouse and creamery serving made-to-order malasadas and small-batch ice cream just opened in Costa Mesa. At Fill, founder and Hawaii-native James Mullis serves up a sweet side of the Islands with true "aloha spirit."
The delicate malasadas are sugar-dusted pastries that are an island icon. They were popularized in Hawaii during the 19th century when Portuguese immigrants arrived in Hawaii to support the islands' growing sugar cane business, and to Mullis, they're reminiscent of the welcoming, diverse culture of Hawaii.
After years of research, Mullis brought two chefs to bring his vision to life: Lincoln Carson and John Park. Fill is his way to share the Hawaiian culture that shaped his childhood.
"The islands are melting pot of culture, pulling culinary influence from the Philippines, Japan, and Portugal," said Mullis, who grew up in the small town of Kaneohe, Hawaii. "We represent the best of Hawaii's embracing culinary culture at Fill with made-to-order malasadas, artisan fillings, and house-made, small-batch ice cream."
Organic and GMO-free, Fill's malasadas are a delicate-yet-doughy Portuguese pastry with a crisp, sugar-dusted exterior (choose from cane, cinnamon, or coconut sugar) which can be served with a variety of fillings including haupia (coconut custard), strawberry jam, Mandarin orange pastry cream, or malted chocolate.
In addition to Fill's fresh-baked malasadas is a selection of small-batch ice creams with unique flavors that evoke a taste of the islands including a vegan Brown Butter Roasted Pineapple, Royal Kona Coffee, Roasted Black Sesame, and POG (passion fruit, orange, guava). To complement its menu of Hawaiian-style delicacies, Fill offers locally roasted, third-wave coffee from Old Town Roasting Co.
At 800 sq. ft. the restaurant's interior balances neutrals including white subway tiles and Koa wood wainscoting with a touch of island vibrancy through pops of burnt orange and a bold backlit LED "eatHI" sign. The exterior of the restaurant offers guests a small lanai where they can gather outside.
Open daily from 7 a.m. – 9 p.m.
Fill is at 1767 Newport Blvd. in Costa Mesa.
---
More Daily Doses