Greer's Daily Dose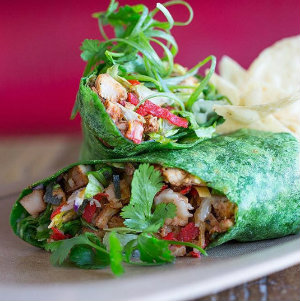 Gluten-Free and Eco-Conscious, Caliente Southwest Grille
11.20.17
Caliente Southwest Grille at East 17th Street in Costa Mesa is a local favorite fast-casual eatery best known for its healthy fresh-mex with a Southwestern influence menu offerings. Established in 1999 by Newport Beach local Ric Flanagan in an effort to have a quick, easy, and healthy spot to take his then young daughter - and now current owner, Heather out to eat. After running the restaurant for 15 years, Heather took over the operation and ownership from her father and has recently made changes to impact the environment and keep Caliente top of mind for the younger generation and its loyal customers.
The menu at Caliente has also been tweaked to be almost all gluten-free. Heather found many customers were seeking gluten-free options, and making a few changes to the menu opened up a whole new offering to people looking for healthier choices without all the carbs. Caliente's from-scratch cooking by Chefs who have been at the restaurant for over a decade, innovative creations, and famous salads, burritos, and flautas are what keeps people coming back daily, and now customers can feel good about their eco-footprint when dining and carrying out from the restaurant.
Caliente has recently discontinued the use of to-go food Styrofoam containers and replaced them with recycled bamboo plates and more eco-friendly packaging as a whole. Heather also decided to get rid of the Pepsi machine for a new all-natural, fair trade batch of amazing tastings sodas by Stubborn Soda. These changes represent the goal of Caliente – and that is to make it easy to eat clean and care for the environment – and still satisfy that craving for good, delicious Mexican food.
"Caliente Southwest Grille is truly healthy, clean Mexican food – we make all of our sauces, salsas, and marinades in-house and use locally grown and sourced veggies that are delivered daily," said Heather Flanagan, owner of Caliente Southwest Grille. "I wanted our brand, packaging, and offerings to reflect the food and the love we put into it on a daily basis."
In addition to being a local hot spot to dine in and take out, Caliente is also quickly becoming the go-to catering company for local businesses, weddings, churches, non-profits and more. They offer full service catering for Mexican, Mediterranean, and Italian cuisine. Caliente is also passionate about giving back to the local community, and you will often find them donating food to local schools and charities.
Open 10:30 a.m. to 9 p.m. Monday through Sunday.
271 E. 17th St. in Costa Mesa. 949.515.0909
---
More Daily Doses