Greer's Daily Dose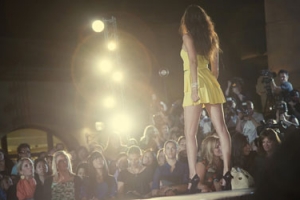 Got OC Style?
09.14.09
Get this while it's hot! You can check out OC's hottest brands and emerging designers at the second annual Style Week Orange County (Sept. 24-26) at the Irvine Spectrum Center.

Trend-savvy visitors can attend five runway fashion shows with designer appearances and in-store events throughout the week.

You can check out a video from last year's StyleWeek here.

Tickets for each fashion show cost just $10 per person and proceeds will benefit HomeAid Orange County. Purchase online at StyleWeekOC.com.

The opening night fashion show starts Sept. 24 at 7:30 p.m. and features OC-based LRG's skateboard and music-inspired clothing and accessories.

Special guests include Ryan Getzlaf of the Anaheim Ducks; Trevor Ariza of the Houston Rockets; Big Black from MTV; and the entire LRG Skate Team, including Chico Brenes, Rodrigo TX and Jack Curtin.

Other fashion show highlights:

Fri., Sept. 25 at 7:30 p.m.: Designer showcase by Ezekiel and Active Ride; and at 9 p.m. Branded: saluting emerging designers Michele Genevieve and Oday Shakar.

Sat., Sept. 26, at 7:30 p.m.: Nordstrom Fall 2009; and at 9 p.m. Metropark presented by MEK Denim with celebrity model Albert Reed.

Irvine Spectrum Center is where the I-5 and I-405 meet in Irvine.
On Sunday from 10 a.m. to 4 p.m. at Images Salon in Corona del Mar, haircuts cost just $40 and 100% of the proceeds will go to Childhelp group homes in OC, dedicated to the prevention and treatment of child abuse. Also, Beverly Hills Derma Surgeon, Dr. Nettles will offer Botox at $8 per unit. All appointments must be pre-paid. Raffle baskets and incredible silent auction packages are also featured. 2515 East Coast Highway in Corona del Mar. 949.675.5531.