Greer's Daily Dose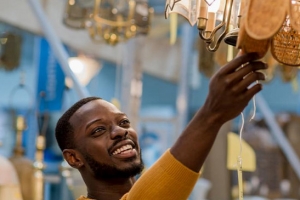 Habitat OC ReStores Goes Online
06.12.20
Habitat for Humanity of Orange County is taking the home-improvement shopping experience online with an e-commerce site for the Habitat OC ReStores in Anaheim and Santa Ana. Casual shoppers, do-it-yourselfers, builders, and designers will now have a chance to view items that suit their style and budget with the click of a mouse.
Habitat OC ReStores are nonprofit home improvement stores and donation centers that sell new and gently used home furniture, appliance and building materials to the public at discounted prices. Proceeds from the Habitat OC ReStore locations help fund the construction of affordable Habitat OC homes for families in need. Plus, purchases reduce waste in landfills and dumpsters.

The launch of the online shopping platform comes at a time when stores across the country have modified operations to curtail the spread of the coronavirus. All purchases made online are available for local pickup only.
The organization builds strength, stability, and self-reliance through affordable homeownership. By shopping, donating, and volunteering everyone can help make a difference.
Habitat OC Restores has taken several measures, including constant cleaning and sanitizing, to keep the stores safe. Hours of operation have changed to help maintain a clean environment and are as follows:
Anaheim ReStore is open Monday to Saturday, 10 a.m. to 6 p.m.; Sunday closed.
1656 Katella Ave, Anaheim. 714.434.6266.
Santa Ana ReStore is open Monday to Saturday, 9 a.m. to 5 p.m.; Sunday closed.
2140 Ritchey St. in Santa Ana. 714.434.6200.
---
More Daily Doses