Greer's Daily Dose
If The Shoe Fits
08.01.11
We're super impressed with Road Runner Sports Shoe Dog System that can really help you find perfect fitting running or walking shoes and help decrease the risk of injuries.

Let's face it, most people choose shoes for their look, not how they fit. With the Shoe Dog process you'll discover what shoes will best address your arch, foot mechanics, body type, and needs.
You'll go through a 12-minute analysis and from a slow-motion video replay of your gait, you'll see just how you're landing, and through a process of elimination you'll be directed to the right shoes that you should be wearing. It really will make a difference, and it's free.
Road Runner Sports takes its Shoe Dog system seriously and offers a 60-Day Perfect Fit guarantee. (VIP members who pay a $19.99 annual fee receive a 90-day guarantee and save 10% on purchases.) You can run in your shoes for sixty days, and if you're not happy with the shoes, return them. Road Runner will find the right pair for you, or you'll get your money back.
Open 10 a.m. to 8 p.m. Monday through Friday; 9 a.m. to 7 p.m. Saturday; and 10 a.m. to 7 p.m. Sunday.
Road Runner Sports is at Costa Mesa Courtyards, at 1835 Newport Blvd. in Costa Mesa. 949.515.9540; or at Laguna Hills at Oakbrook Village Center, 24291 Avenida De La Carlota in Laguna Hills. 949.855.9252.
Never Too Soon!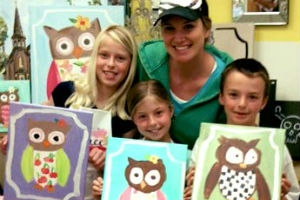 It's already time to think about fall projects for kids, and here's one that's ideal for artistic children, ages six and up. Timree Gold is offering after-school art classes starting in September each Tuesday or Wednesday from 4 to 5:30 p.m. through December. The cost of four classes each month is $175.

Timree also offers paint parties and adult classes that are perfect for a girls night out, company party, or birthday celebation at her charming studio on Old Newport Boulevard in Newport Beach.
365 Old Newport Boulevard, Suite A in Newport Beach. 949.723.1300.
---
More Daily Doses