Greer's Daily Dose
In The Spotlight: The Neighborhood Butcher
06.15.14
With all of this newfound appreciation for butcher shops, we can't forget about our favorite local butcher shop, Celestino's in Costa Mesa that predates the newbies popping up throughout the county. Celestino's opened 40 years ago on East 17th Street in Costa Mesa and to this day its original owner, Tom Spurlock can be found most mornings working behind the counter. Forever, he did everything by rail system, now to save time and energy, Celestino's high quality meats come vacuum packed, ready to be freshly cut and deboned to customers' likings.
As the former butcher of the long gone Alpha Beta in Costa Mesa, Spurlock knows everything there is to know about the meat business, but most of all he's committed to providing the best service. Celestino's goes out of its way to meet customers needs, they can custom order any hard to find meat you want, from wild game (elk, alligator, buffalo patties, ostrich patties and more) to slab bacon, hand-cut from Holland.
Spurlock says since the mid-1990s, Celestino's went all natural thanks to its customers who took an interest in eating healthier. Now they carry only grass fed, all natural Manning 's choice and prime beef, veal and lamb (nitrite, nitrate and antibiotic free); Harrison's poultry, Rocky Free Range chickens, and free range Diesel turkeys.
At Celestino's they make 30 types of handmade sausages, (English style banger sausage, sweet Italian sausage, turkey cranberry to name a few) as well as at least a dozen types of beef and turkey jerky including sugar free and gluten/sugar free varieties. Their made from scratch marinated meats and poultry, as well as the dry rub pork are among its most popular items for cooks in a hurry.
Open 9 a.m. to 7 p.m. daily.
270 E. 17th St. in Costa Mesa. 949.642.7191.
Men's Hair Only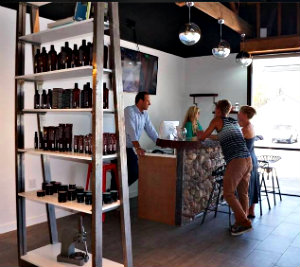 Nothing against the ladies, but at the new PRESS Men's Hair Salon in Newport Beach, the focus is soley on making men their most handsome through custom cuts and styles. And unlike similar men's only concepts, this is neither a barbershop, nor a clubby salon. Men of all ages are welcome. First, the stylist will want to know exactly what you want, evaluate your hair, and then get to the cut.
Extra amenities to make the experience even better include flat screen TV's, iPads at all salon chair (in the works) and American Crew products.
All hair services include a therapeutic signature shampoo and conditioner, soothing scalp massage (to relieve tension and stress), a warm facial towel, cold water rinse and a neck trim. And, you'll also recieve an iced cold drink of your choice.
After the cut, your stylist will give you a detailed hair prescription so that you can maintain your look at home.
Open 9 a.m. to 7 p.m. Monday through Saturday.
2300 SE Bristol St. in Newport Beach. 949.274.9995.
---
More Daily Doses