Greer's Daily Dose
It's Summer: Time for a GNO at SOCO!
06.26.13
Summer has officially begun, which means it's time for warm days and haute nights at SOCO and The OC Mix! Mix up your standard evening out and spend it at OC's coolest destination for shopping, beauty, wine tasting, cooking classes and more!

Greer's OC has done the research for you and created your go-to guide for your next Girls Night Out at SOCO and The OC Mix. As an added bonus, if you come to SOCO this Friday, you can even take part in the Drop Off and Dine program at Chuck Jones Center for Creativity from 5:30 to 8:30 p.m. Drop the kiddos at the Center and they'll enjoy various creative activities with the inspiration of Chuck Jones's animation, film, and fine art. Pricing is $30 for one child, $35 for two, or $40 for three kids. Dinner for children can also be purchased or brought from home. For more information call Sasha Advani at 949.660.7793 x107 or email Sasha@chuckjonescenter.org.

Now that the kids are taken care of, here are some fun ideas how to spend your GNO at SOCO and The OC Mix!

MicaBeauty Cosmetics, a revolutionary makeup studio, just opened at The OC Mix at SOCO! You can start your night with a makeup application by the talented MicaBeauty makeup artists. Their 100% natural makeup line that uses only pure minerals and ingredients will make you look and feel radiant and refreshed for a night out at SOCO.

Next, head to Lollipop Nail Studio at The OC Mix. Your whole group can sit in Lollipop's adorable chairs, de-stress and catch up while you enjoy a manicure or pedicure. Lollipop uses only the finest quality organic ingredients, beautiful aromas, and the luxurious ambiance will offer a relaxing environment for you and your friends.

Next, enjoy happy hour with the girls at We Olive at The OC Mix. From 4 to 6 p.m., you can enjoy $2 off the extensive wine list and enjoy complimentary artisan bread, olive oil, and balsamic. Then, walk across the way and enjoy gourmet cheese tasting at The Cellar Cheese Shop – which carries everything from sheep to goat to buffalo to cow cheese. A delicious start to the evening!

If you and the girls are looking to try something new on your next GNO, Surfas Culinary District is celebrating summer on the grill this Sunday, June 30 from 12-3pm or Monday July 1 from 5:30-8:30pm. Impress your significant others by learning grill tips that will be sure to impress at your next BBQ. You will enjoy tastings of Grilled Bruschetta, Barbecued Corn and Tomato Salad and more! Classes are $65/per person and please call 714.453.COOK(2665) for more information visit here.

Another fun way to mix up the standard GNO is getting your hands dirty – with paint! You and the girls can let your artistic side shine at Peinture for a fun furniture painting class – where your group can transform dated furniture into a modern piece of art. You will learn basic paint application (with over 30 colors to choose from), clear wax application, dark wax application, and distressing techniques. These classes take place almost every Saturday and fill up fast! Pricing starts at $95, and please call 714.427.0668 to sign up!

And of course – day or night - you can enjoy shopping with your friends at the artisan boutiques and over twenty designer showrooms at SOCO and The OC Mix! For more information, visit sococollection.com.
3313 Hyland Avenue in Costa Mesa.
Summer Skate Camp at Volcolm's HQ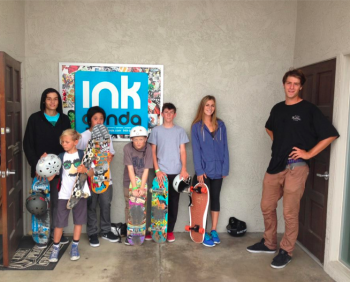 Have skateboarding enthusiasts at home who want to learn the basics or further their shredding skills? Sign them up for National Scholastic Skateboarding League's skate camp at Volcolm's indoor skatepark in Costa Mesa through Friday, June 28. (One day camps are ok too.) The next session starts the week of July 29 to August 2.
The skate camp includes clinics with NSSL Skateboarding coaches and surprise skater sessions throughout the week, and field trips. All campers will receive a video of their progress. The camp costs $175 per person for the week, or $50 a day. Prizes, lunch and snacks included.
To sign up call 949.502.8800 ext. 205, or send a check payable to NSSL at 1600 Dove St. Suite 101 in Newport Beach.
The skate camp is at Volcolm Headquarters 1740 Monrovia Ave., in Costa Mesa.
---
More Daily Doses