Greer's Daily Dose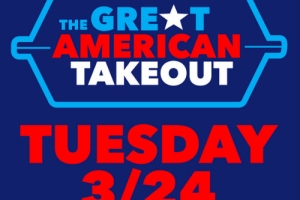 Join #TheGreatAmericanTakeout
03.23.20
The coronavirus poses a significant threat to the restaurant industry and its 15 million employees. A coalition of restaurants is asking Americans to participate in The Great American Takeout on Tuesday, March 24.
During The Great American Takeout, people are encouraged to order at least one delivery or pick-up meal to show support for the struggling restaurant community.
Participating restaurants include Pieology, Outback, Veggie Grill, Chicken Salad Chick, Panera Bread, BJ's Restaurants and Brewhouse, Noodles & Company, Outback, El Torito, Jason's Deli, The Habit Burger Grill, The Cheesecake Factory, Lemonade, Modern Market, The Coffee Bean & Tea Leaf®, Tocaya Organica, Torchy's Tacos, Chevys Fresh Mex, Lucille's Smokehouse Bar-B-Que, Del Taco, Primanti Brothers, Tropical Smoothie Cafe, California Pizza Kitchen, Shari's Restaurants, Beefsteak, Which Wich Superior Sandwiches, ZaLat Pizza, Sharky's Woodfired Mexican Grill, California Tortilla, Qdoba Mexican Eats, Curry Up Now, Urbane Café, Paris Baguette, IHOP, Applebee's, Dickeys Barbecue Pit, Mountain Mike's Pizza, Coco's Restaurant & Bakery, Carrow's Restaurants, Black Bear Diner, Good Times Burgers, Bad Daddy's Burger Bar, Miguel's Restaurant & Miguel's Jr., and Wild Wing Cafe
Because dine-in meals are no longer being served at most restaurants, delivery and pick-up are the only ways to support these struggling businesses. According to the Centers for Disease Control and Prevention and the Food and Drug Administration, there is little evidence that COVID-19 can be transmitted through food or packaging.
"This is no longer about the survival of individual restaurants," said Russ Bendel, CEO of The Habit Burger Grill. "It's about the future of our industry. And time has run out. Together, we must act to support each other and our communities in unprecedented ways."
To participate in The Great American Takeout, Americans are being asked to:
Post on social media in advance of the event, encouraging friends and followers to take part in #thegreatamericantakeout.
Engage friends, family and colleagues to support their local restaurants by ordering takeout meals.
Order delivery or pick-up for at least one meal on 3/24, sharing photos on social media tagged with #thegreatamericantakeout.
---
More Daily Doses