Greer's Daily Dose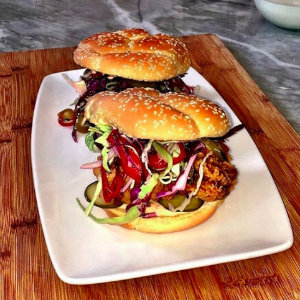 Just Like Grandma's Fried Chicken
06.21.18
Craving fried chicken? Today's your lucky day. Chef/restaurateur Ryan Adams of Three Seventy Common Kitchen+Drink in Laguna Beach is opening Buttermilk Fried Chicken in Old Towne Orange. The same cult-favorite fried chicken that's available only once a month at the family-style Fried Chicken Dinner at Three Seventy Common will be available daily to dine in or take home.
His buttermilk fried chicken pays homage to his Grandmother Mary who lovingly created down-home, always comforting food, using simple, real ingredients and age-old techniques. It's been a busy time for Adams, he also recently opened Parallel Pizzeria in Dana Point.
Buttermilk, an intimate fast casual and take-out restaurant specializing in buttermilk fried chicken and other comfort fare is located off the Orange Circle, it was formerly the LinX spot. It will be open for lunch, dinner and late-night appetites.
The featured chicken – fried or honey roasted – will be available in buckets (six piece small; 12 piece large) or three-piece plate with choices of two seasonal side fixins' such as smoky braised greens with chile, coleslaw (Carolina or Texas style), mac & cheese, creamed corn, mashed potatoes with gravy, biscuits with orange-honey butter and tots with spicy ketchup. Each bucket and plate comes with green chili-cheddar corn bread with spicy honey. All sides are available separately.
Additional Buttermilk offerings will include starters such as chicken strips, smothered tots with gravy, spicy deviled eggs; and sandwiches like The Classic with chicken, slaw, pickles, chilies and chili aioli, and The Nichols, which is chicken with cheddar, bacon, egg, and gravy on a biscuit. The Southern Cobb has chicken, greens, onion, corn, tomato, avocado, cheddar, egg and pickle vinaigrette. Dessert is coconut cake by the slice, while it lasts.
And most importantly, Adams' strong commitment to sourcing free-range, responsibly-raised, all-natural chickens and other foods, means the menu is organic and locally sourced.
Part vintage diner crossed with modern farmhouse and not much bigger than Grandmother's kitchen; Buttermilk Fried Chicken aims to make everyone feel welcome just like Adams always felt at Grandmother's house.
Hours to start will be 5 to 9 p.m. through Monday, June 25. Starting Tuesday, June 25, regular hours will be 11:30 a.m. to 9 p.m. Sunday through Wednesday; and until midnight Thursday through Saturday
Buttermilk Fried Chicken is at 238 W. Chapman Ave., Suite 100 in Orange. 714.941.9124.
---
More Daily Doses