Greer's Daily Dose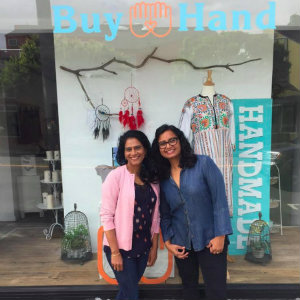 Laguna Beach's Best Retail Store Reopens
04.05.17
Buy Hand, Laguna Beach's destination for incredible handmade and a new global collection of fair trade items is celebrating its grand re-opening on Thursday, April 6 from 6 to 8 p.m. in a new location in the HIP District. The store was previously located in the Sleepy Hollow district. The new location features a gorgeous storefront and an idyllic back patio.
The event will also celebrate the launch of the store's new global, fair trade collection. The global collection showcases vibrant colors and treasured craftsmanship. "We are thrilled to open in the HIP District and are excited to share our new global fair trade collection. This collection is especially close to our hearts because it helps provide a fair income to women in India and provides special products that our customers can feel good about," says Vidya Reddy, owner of Buy Hand.
You can choose from beautiful jewelry, apparel, décor, home accessories, toys, children's items and more.
The Bollywood-themed event will feature gifts (while supplies last), music, snacks, and authentic Indian henna on site. The Chamber of Commerce ribbon cutting and party will take place during Laguna Beach's First Thursday Art Walk on April 6 from 6 p.m. to 8 p.m. All are welcome. Free of charge.
1175 South Coast Highway in Laguna Beach. 949.715.0515.
---
More Daily Doses