Greer's Daily Dose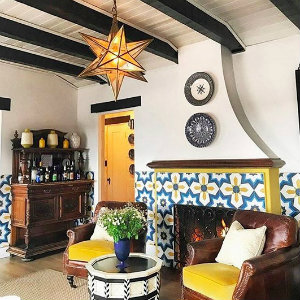 Laguna's Historic Boutique Hotel and Spa: A Luxury Redux
05.16.18
If you haven't yet discovered or experienced the beautifully renovated Casa Laguna Hotel & Spa on the southern end of Laguna Beach, you will be so impressed by this historical treasure.
The property was built in the early 1900s, and today it offers intimate guest suites and a new Spa that was completely redesigned and renovated by famed interior designer Martyn Lawrence Bullard, one of Architectural Digest's top 100 interior designers, and PRG Hospitality (Palm Springs' Colony Palms Hotel and Sparrows Lodge, San Luis Obispo's Granada Hotel and Bistro and others).
Casa Laguna's one-of-a-kind luxury boutique accommodations were restored with both its historical past in mind as well as its modern yet bohemian seaside lifestyle that Laguna Beach is known for. The newly redesigned Spa is open to hotel guests and to the public. It offers both an intimate indoor and outdoor spa, the latter of which overlooks the Pacific Ocean with a private Therapeutic Wellness Bath soaking tub. The professionally trained and certified staff offer a variety of massage techniques, including Swedish Massage, Deep Tissue, Reflexology and Hot Stone, Couples Massages, Salt Polish & Pamper. The Spa at Casa Laguna features the exclusive Cowshed Spa product line made in England.
The quiet getaway features 23 guest rooms, including five suites, an elaborate maze of lush landscaping, winding pathways and hidden corners, a private outdoor swimming pool with ocean view. There's also easy walking access to Victoria Beach, one of the city's most intimate, exclusive beaches, typically enjoyed by locals only.
Casa Laguna's guest rooms and suites, offering ocean and garden views, are beautifully appointed with Cowshed bath amenities, Dean & Deluca mini bars, and artisan Moroccan tiles.
Among the property's five suites is the premier Bungalow Suite, which is a stand-alone, 800 sq. ft. guest house with a private patio featuring ocean views, a luxury bath with clawfoot tub and steam shower, a separate living room and large kitchenette. The house sits at the top of the property with unparalleled ocean views and an idyllic sense of privacy and relaxation. A charming and private on-property restaurant offers breakfast and small plates in a quaint setting with ocean views, along with poolside and in-room dining and cocktail service.
The newly renovated Casa Laguna & Spa is located at 2510 S. Coast Highway in Laguna Beach. 949.494.2996

---
More Daily Doses