Greer's Daily Dose
Let's Eat at OC Fair!
07.13.11
The theme of this year's Orange County Fair, which starts Friday, is "Let's Eat!" For us, that's the theme each year we visit the fair.
We put healthy eating aside for a day (or two) and fill up on battered, deep-fried, jumbo-sized foods, and tasty treats served on a stick, in a corn husk, or try new items such as deep-fried Kool-Aid, deep-fried brownies, deep-fried Girl Scout cookies and deep-fried BBQ ribs.
Also new for fairgoers this year are chocolate-covered corndogs, beer-battered bacon from the Deep-Fried Butter stand and icy sweets from the new Legendairy Gelato. Not to be missed from past year's menus will be deep-fried frogs legs, deep-fried Oreos and Krispy Kreme chicken sandwich on the Fair menu.
Arrive hungry, here's what's in store for you. Taste samples for $2, during the Taste of Fair Food event from noon to 4 p.m. Fridays Samples include funnel cake, deep-fried Oreos, BBQ tri-tip, lemonade, cinnamon roll, corn dog, falafel, gelato, sushi, bratwurst and more. Every Thursday in The Hangar, celebrity chefs will be sharing cooking tips and doing demos. Stop by to learn culinary secrets from Food Network's Ace of Cakes Duff Goldman (July 21, 1:30 p.m.); Bravo's Top Chef season-five finalist Carla Hall (July 28, 5 p.m.); Bravo's Top Chef season-six winner Michael Voltaggio (Aug. 4, 1:30 p.m.); and Las Vegas-based rm Seafood's Rick Moonen (Aug. 11, 1:30 p.m.).
The popular Food Truck Fare continues every Thursday from noon to 10 p.m. Featured food trucks include The OC Food Truck, The Burnt Truck, Baconmania, Piaggio On Wheels, Dos Chinos and more.
Fairgoers can also compete in free daily eating contests held in the Fun Zone Tent at 6:30 p.m. (Registration is 30 minutes prior to each contest.)
Each Saturday, compete in the Culinary Arts Special contests for the best lunch bags, spicy hot wings, pies, cupcakes and cuisine on a stick. Online entry registration starts the Wednesday before each contest. Visit ocfair.com/competitions for information and to register.
The OC Fair also includes rides, exhibits, animals, music, action sports and fun, as well as the popular Super Pass (season pass), Pacific Amphitheatre Summer Concert Series, and Action Sports Arena.
The Fair is open Wednesday to Sunday through Aug. 24. The OC Fair & Event Center is off the 405 and 55 freeways at 88 Fair Drive in Costa Mesa. For more information, visit ocfair.com.
Bastille Day at Zpizza!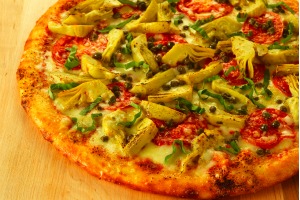 Celebrate Bastille Day at any Zpizza location Thursday with free samplings of its French-inspired pizza, the Provence, made with organic tomato sauce, homemade roasted garlic sauce, fresh mozzarella, capers, artichoke hearts, tomato and fresh basil.
The samples are just available from 11 a.m. to noon or 4 to 5 p.m., so best to plan your day accordingly.
Zpizza first opened in Laguna Beach in 1986 and is known for making affordable and healthy vegan, vegetarian and gluten-free options including hand-thrown pizzas, rusticas, pastas, calzones, sandwiches and salads with premium, local ingredients. The pizza dough is made with 100% organic wheat flour prepared fresh every day and fire-baked until crisp.
Zpizza has locations in Huntington Beach, Ladera Ranch, Laguna Beach, Laguna Niguel, Newport Beach, Irvine, San Clemente, San Juan Capistrano, and Tustin.
---
More Daily Doses