Greer's Daily Dose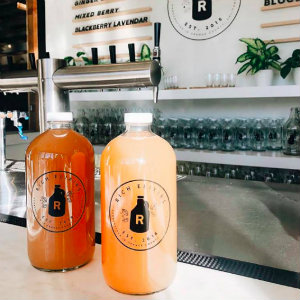 Locally Brewed Rich Elixers Arrives in OC
12.18.18
Rich Elixirs was founded by Jesse and Brooke Rich, a husband and wife team who are bringing fresh organic kombucha and healthy and satisfying craft ginger beer to SOCO and The OCMix.

For the past five years, Jesse Rich has researched and studied kombucha. This has allowed him to reach a perfect level of ferment and create a beautiful balance of C02 to carbonate their Kombucha, giving it a crisp and clean taste. They put passion into every aspect of the brewing, bottling, and selling process.
Choose from rotating season flavors that can include Apple Cranberry & Cinnamon Kombucha; Ginger Lime Mint, with fresh mint, local ginger and lime juiced right in their kitchen, it's the ultimate refresher! And, Blackberry Lavender infused with lavender and blackberries and is subtly sweet and relaxing. Grapefruit & Hops: this customer favorite is squeezed with fresh grapefruit juice and dry hopped, bringing it an all-around citrusy and refreshing flavor. Mixed Berry, with a mix of Blueberries, Raspberries, Blackberries, and Strawberries all steeped together, to make a sweet, delicious flavor for all to enjoy.
Seasonal Ginger beer flavors can include Mango & Lime, Blood Orange, Pomegranate Ginger Beer, and Gingerbread Bliss Ball with half Apple Cranberry Cinnamon Kombucha and half original Ginger Beer.
Open 10 a.m. to 7 p.m. daily.

Rich Elixirs (located inside OC Mix) is at 3313 Hyland Avenue in Costa Mesa. 949.445.0102.




---
More Daily Doses