Greer's Daily Dose
MaxMara's Lunar New Year Celebration
02.06.13
Join MaxMara South Coast Plaza for a Lunar New Year celebration from Thursday, Feb. 7 to Thursday, Feb. 14 in honor of the centuries old tradition that represents good fortune, happiness and peace for all. MaxMara welcomes the Year of the Snake full of hope and great new possibilities, while handing out Lucky Red envelopes with free gifts and discounts for all customers. And, with the purchase of $1,500 or more receive a limited edition LiuLi handcrafted crystal snake necklace, while supplies last.
You can also attend a special cocktail reception on Tuesday, Feb. 12 from 5 to 8 p.m. featuring MaxMara's Spring/Summer 2013 collection and beautiful crystal pieces on display by LiuLi. The first 30 guests will receive a special gift from LiuLi with a purchase. RSVP for cocktail reception by Sunday, Feb. 10. By calling 714.754.7900 or email MaxMaraSCP@cfstores.com
Open 10 a.m. to 9 p.m. Monday to Friday; 10 a.m. to 8 p.m. Saturday; 11 a.m. to 6:30 p.m. Sunday.
Level 1, outside of Macy's, MaxMara South Coast Plaza in Costa Mesa.
Fly Fishing Film Tour in OC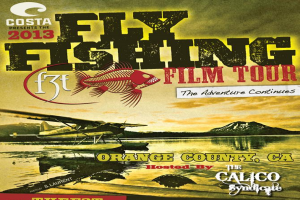 Who knew that more than 5.5 million people in the U.S. fly fish and that enthusiasts are spending upwards of $700 million a year on fly fishing gear? You can experience the adventure and serenity of this niche sport through film at the first Orange County appearance of the national Fly Fishing Film Tour (F3T) at The District Tustin Legacy on Saturday starting at 3:30 p.m. A portion of the proceeds will benefit the John Wayne Cancer Foundation and Algalita Marine Research Institute.
F3t will feature more than a dozen films about all types of fly fishing in both fresh and saltwater including the debut film, "The Calico Syndicate," the first full feature documentary on saltwater fly fishing in Orange County. The locally-produced film highlights the revolutionary use of heavy fly lines upward of 800 grains for fishing deep in the water column for calico bass. The film, produced by Keith Munemitsu and Scott Hicks of Tight Loop Media, and awarding winning director Chris Aguilar of Fin Film Company, features Orange County-based guides Capt. Vaughn Podmore of Salty Fly Guide Service, and Bill Calhoun of C2F2.
"Fly fishing is the ultimate angling challenge because of the amount of knowledge and physical skill that goes into the sport," says Munemitsu of Tight Loop Media. "It is frustratingly addictive."
The event begins at 3:30 p.m. with a silent auction, a meet and greet with experienced guides Podmore of Salty Fly Guide Service, Joe Libeu of Sierra Pacific Fishing Adventures, Calhoun of C2F2 and Guy Jeans of Kern River Flyfishers sharing conditions, locations and the fly fishing experience in Southern California. Enjoy beverages hosted by Kona Brewing Co. Movie screenings will begin at 5 p.m. and will be
followed by hosted hors d'oeuvres, live music and product showcase.
Tickets are available online only here for $22
The District Tustin Legacy is located at 2437 Park Avenue, Tustin.
---
More Daily Doses