Greer's Daily Dose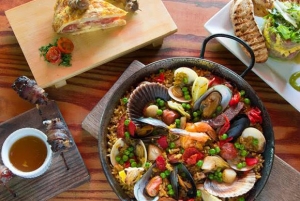 Mother's Day Takeout & Delivery Options
05.06.20
Mother's Day is around the corner, but that doesn't mean you can't treat mom to a delicious meal from takeout or delivery. Here are a few Orange County options to plan for a special celebration at home.
Cafe Sevilla at Triangle Square in Costa Mesa can help transport mom to Spain from the comfort of your own home this Mother's Day. The recently opened restaurant has a special Mother's Day menu available for curbside pick-up. Enjoy a variety of tapas and paellas accompanied by a carafe of sparkling cava sangria or a bottle of premium Spanish wine. Plus, with orders over $55, guests will receive a free $20 gift card for use when Cafe Sevilla reopens. Sevilla is also offering several unique culinary gifts for mom, including a Sevilla branded apron, bamboo cutting board or polished steel paella pan.
The menu includes a variety of Tapas including a Meat and Cheese Bocadillo Platter; Datiles Rellenos (Medjool dates, Cabrales blue cheese, and applewood bacon); Brussels Sprouts a la Barcelona; and Garlic Manchego Mashed Potatoes. The menu also offers a selection of Paella for two, and Brochetas, flame-grilled skewers served over a bed of saffron rice, to serve one or two. Place your order by Saturday, May 9 at 4 p.m. for pick up on Mother's Day, Sunday, May 10, from 10 a.m. to 1 p.m.
You can view the full menu and more details here: cafesevilla.com/menu/Mothers-Day, place orders by calling 714.717.4945.
Panini Kabob Grill at Kaleidoscope in Mission Viejo has lowered prices on its popular Family Combos, which feed up to six people. A Family Kabob Combo comes with four chicken skewers (substitute flat iron steak, salmon, tofu or other options for a nominal charge), and a choice of salad and rice for $39.95.
The restaurant also has beer and wine available for purchase through their website or app, as well as free delivery and curbside pick-up on orders placed through their My PKG app or PaniniKabobGrill.com.
Panini Kabob Grill is located in Kaleidoscope at 27741 Crown Valley Parkway, Mission Viejo. To place a curbside pick-up, order through their app or website. Please call the restaurant with questions: 949.367.0442.
Riptide Rockin' Sushi & Teppan Grills at Kaleidoscope, one of South County's most popular sushi restaurants, is open for take-out with curbside pick-up, their own delivery service or through Doordash or Uber Eats. The Mission Viejo restaurant is offering their entire menu, including sushi, teppan items and cocktails, beer and wine. Riptide is open Wednesday through Sunday at 5 p.m. and starts taking phone orders at 4 p.m. Visit their website or call 949.282.0181.
Riptide Sushi is located on the upper level of Kaleidoscope at 27741 Crown Valley Parkway, Mission Viejo.
---
More Daily Doses