Greer's Daily Dose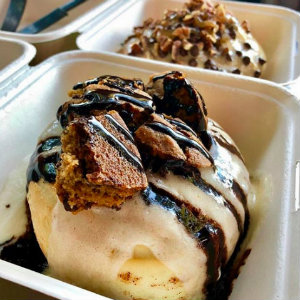 Not Your Typical Cinnamon Roll Shop
11.13.18
The hottest news in sweets for anyone who is vegan, or just wants a great treat is that Cinnaholic just arrived The District at Tustin Legacy. In case you are new to the Cinnaholic concept, these are the acclaimed vegan, super delicious and freshly baked cinnamon rolls with seemingly endless toppings. As seen on ABC's hit show, SHARK TANK. The award-winning gourmet cinnamon rolls offer 30 different frosting flavors and a variety of different toppings.
All of the products are dairy and lactose-free, egg-free and cholesterol-free. Choose from cinnamon roll flavors such as the Pumpkin Pie, Blueberry Pie, Raspberry Dream, Cookie Monster, The Disneyland Roll, The OC and many more. Or, create your own with a favorite topping and frosting. Toppings include fresh apples, walnuts, pretzels, bananas, peanut butter cups, graham crackers, brownie bites, and chocolate chips.
Other treats available include house-made chocolate chip cookies, house made fudge style brownies, and chocolate chip cookie dough.
Open 11 a.m. to 9 p.m. Monday to Thursday; 11 a.m. to 10 p.m. Friday and Saturday; 11 a.m. to 8 p.m. Sunday.
2423 Park Ave in Tustin. 714.709.8655.
Photo by @adventureswithchass.
---
More Daily Doses