Greer's Daily Dose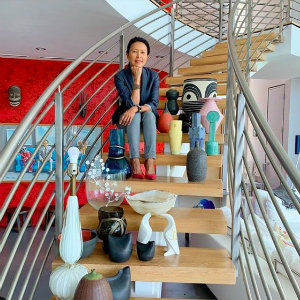 OC Art + Design Maven Opens Home For Art Exhibition
08.30.19
Dupuis Design presents NO LIMITS!, a special one-night exhibition on Saturday, September 7 from 5 p.m. - 10 p.m. in San Clemente, where art and design converge in the private residence of Peggy Dupuis of Dupuis Design. This intimate event brings together local and international artists whose work is shown in the context of the domestic environment in intuitive and innovative ways. NO LIMITS! explores what it means to live with art and how it can enhance our daily lives.
This event is open to the public with limited capacity and advanced reservation. Proceeds from ticket sales will go to Living Success, an Orange County-based non-profit that provides community mental healthcare. You can reserve your spot here at $15 per reservation.
Exploring her passion for the interconnected play of art and design in the interior space, interior architect Peggy Dupuis's third annual in-home art salon pursues the theme of collapsing boundaries between art and design. Dubbed No Limits!, the unique exhibition places art objects throughout an interior space so attendees can see how artwork can enhance the domestic space and inspire new ideas for how art lovers can live with art.
THE ARTISTS
Working across mediums from sculpture to photography No Limits! brings together artists from San Clemente to the Ivory Coast. Exhibiting artist include Herbert Alle, Ivory Coast; Esmael Bahrani, Paris based Iranian; Celia Fousse, Paris, France and California; Cecile Geiger, Paris, France; Vero Reato, Paris France; Leah Rodarti, San Clemente; Brad Wilson, Santa Fe and featuring a selection of artists from Gardeco, a Belgium-based design house.
Reserve your space here to No Limits!
---
More Daily Doses