Greer's Daily Dose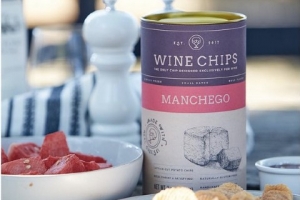 OC Based Wine Chips Only Chip To Be Paired With Wine
01.29.21
Huntington Beach-based WineChips.com, a trailblazing company that officially launched at the end of 2019, has finished 2020 with over $1M in online orders. Wine Chips was created by serial entrepreneur Jonathan Strietzel and a small group of passionate oenophiles and exuberant chip connoisseurs. The company assembled a talented team of Master Sommeliers that includes Jonathan Pullis, Emily Wines, and Jill Zimorski to create an elegant line of artisanal potato chips designed specifically to be enjoyed with wine.
Jonathan first speculated about the marriage of wine and cheese with a non-traditional salty snack back in 2017 over a Pinot Noir and a bag of, frankly, ordinary cheesy potato chips. The chips did not work with the wine, as they were not substantial enough and their flavor was overpowered.
It was in this moment that he began to wonder about a hand-crafted gourmet chip that could be specifically made to pair with wine. If successful, it could be a game-changer. The concept was easier than a charcuterie board and more satisfying than an ordinary chip, but it took time to figure out what it wanted to be when it grew up. He called in the family.
Jonathan, his girlfriend, and his parents, aunt, and cousins got together in a makeshift test kitchen to start experimenting. Each of them, dressed in their aprons and hairnets working over large range stoves with huge pots of oil, delicious seasonings, countless artisan cheeses, and all kinds of potatoes sliced in sundry shapes, spent hours, days, weeks, and months collaborating.
They showed up with their trucks each day to load in and load out of a live-work apartment with equipment and ingredients. Big cups of coffee, breakfast for the team, and their senses of humor in tow, they dug deep until they got it right. There were days they skipped the coffee and went right to the wine at 9 a.m. to get the flavors just right. Batch after batch, taste-test after taste-test, they collaborated until they found the answer: a patent-pending, partial lattice cut, extra-thick chip (many times the thickness of standard kettle-cooked potato chips), with powerful, flavorful seasonings that would help wine lovers feel the perfect balance when they were appreciated with wine.
Wine Chips currently offers four distinct flagship flavors: Smoked Gouda, Asiago, Blue Cheese, and Manchego, each with pairing recommendations for the optimal red, white, bubbly and rosé wines. Each flavor is created to enhance your wine experience by creating equilibrium with the specific fruits, tannins, and acidity in the wines. Wine Chips launched quietly on social media a little over a year ago. Throughout 2020, the company saw dramatic increases in their online orders, finishing the year with over $1M in revenue and with a presence in over 600 wine shops and gourmet food stores nationwide.
Orders and more information at winechips.com.
---
More Daily Doses