Greer's Daily Dose
OC Weekend: Sapphire Food Affair!
06.02.11
Don't miss the debut of the Sapphire Food Fare Saturday from 10 a.m. to 2 p.m., at St. Anne School in Laguna Niguel. Think of it as an expanded farmer's market, with a collection of fine foods, plus farm-fresh produce and herbs, artisanal breads, cheeses and chocolates, organic grass-fed beef, fresh seafood, and local varietal honeys.

Participating chefs will demonstrate recipes and provide samplings, and nutritionists and health experts will share tips on how to eat better. Chef and owner Azmin Ghahreman of Sapphire Laguna dreamed up this concept that offers fresh local foods, as well as education.
Participating local farms, purveyors, and artisans include Got Thyme, Jaime Farms, Garcia Organic Farms, Wong Farms, Fat Uncle Farms, Weiser Family Farms, Hay Ground Organic Gardening; meat and seafood from Santa Monica Seafood, Newport Meat Company; specialty foods from Sapphire Pantry, Picket Lane Bakery, Chocolate Soldier; and fitness from TaeKwonDoJang.
Chef Azmin also launched Sapphire at School at St. Anne School two years ago. The program provides students with a fresh and healthy hand-crafted selection of breakfast, snack and lunches.
St. Anne School is located at 32451 Bear Brand Road in Laguna Niguel.
Free Sound @ the Lab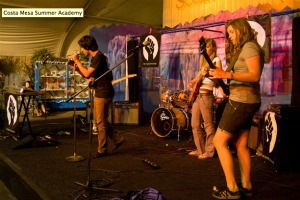 The LAB is hosting a free Collective Sound Music Academy concert to help provide contemporary educational music programs for junior and senior high students throughout the world Friday from 6 to 10 p.m.
Bands that will be performing include the Fling from Long Beach; My Pet Saddle from Costa Mesa; The New Limb in Los Angeles; Micah Brown in Costa Mesa, and The Kokomos, a student band from the Academy. The Youth Movement CoOp Series will continue offering free concerts in Los Angeles in July, and Portland in August, with its final concert in Los Angeles in the fall. Each concert gives Academy students a chance to perform with up and coming and established artists.
The LAB is at 2930 Bristol St. in Costa Mesa. For more information, call 714.966.6661 or visit thecollectivesound.com.
Water Cleanup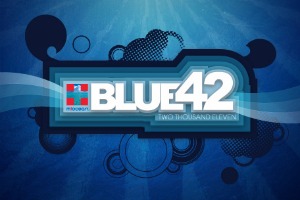 Support Miocean's efforts to raise funds for Santa Ana River cleanup and other projects on Orange County's 42 Miles of coastline by attending the Blue42 celebration Friday at 5 p.m. on the lawn of the St. Regis Hotel Monarch Beach. The exciting event, with live and silent auction items, and entertainment by The Fab Four - The Ultimate Tribute will be a rewarding and enjoyable evening under the stars to benefit the ocean.
Blue42 honors local, award-winning IMAX filmmakers, Greg and Barbara MacGillivray for their commitment to restore and protect the ocean through their One World One Ocean Foundation.
For more information or to reserve your table, please contact Diana Cheek at 949.271.4386 or via email at diana@miocean.org.
St. Regis Resort, Monarch Beach at One Monarch Beach Resort in Dana Point.
Girl's Night Out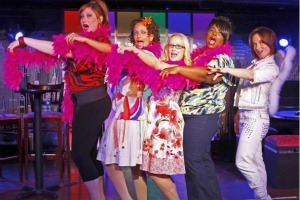 Make it a fun girl's night out at "Girls Night: The Musical" playing through Sunday at the Laguna Playhouse. The story follows five friends re-living their past, celebrating the moment, and looking toward to the future on a hysterical karaoke night. You'll recognize karaoke favorites like "Lady Marmalade," "It's Raining Men," "Man, I Feel Like a Woman," "I Will Survive," "We Are Family" and many more.
Laguna Playhouse at Moulton Theater is at 606 Laguna Canyon Road in Laguna Beach. For more information, call 949.497.ARTS (2787), or visit www.lagunaplayhouse.com.
Bohemian Beauty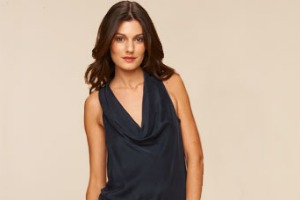 Michael Stars at Fashion Island is all about bohemian beauty Saturday from 2 to 5 p.m. with hippie chic tunes, 70s inspired styling tips and the first 20 shoppers to make a purchase of $100 or more will receive a free feather extension. Michael Stars will be rolling out fun summer fashions for the event including the hot Style 6212 boxier cut top in new colors, tie dye tops; blousy tops in heather grey and white; racer back and strapless dresses; shine fabric dresses; and tanks in yellow, aqua, and magenta.
Open 10 a.m. to 9 p.m. Monday through Friday; 10 a.m. to 7 p.m. Saturday; 11 a.m. to 6 p.m. Sunday.
Michael Stars is at Fashion Island near the koi pond. 949.999.0750.
---
More Daily Doses