Greer's Daily Dose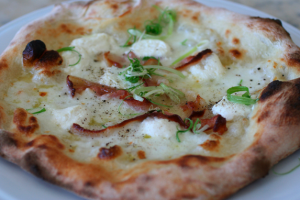 OC's Best Pizza and Pasta?
08.23.10
You know something tastes good, if not great, when the not-easily-wooed LA Times restaurant critic S. Irene Virbila lovingly gives it a green light—especially in OC. Well, she was smitten with the dishes at Pizzeria Ortica in Costa Mesa. She even said, "For one thing, the menu includes pasta, some of the best in Southern California, plus a fine antipasti and salad menu, and a handful of well-conceived main courses." Some of the best in SoCal—wow, that's saying a lot.
So here you go, you can dine and bring the whole family to David Myers' fabulous Pizzeria Ortica—for Family Style Mondays—$50 feeds three to four people. The special menu features choice of two salads, tricolore with treviso, arugula, endive, apples, Gorgonzola, and candied walnuts, or L'Italo Americana, with radicchio, romaine, endive, grilled zucchini, spicy salame, provolone, pickled peperoncini, red onion, and cherry tomatoes. Choice of two fresh pastas, ravioli di burrata al pomodoro, a burrata filled ravioli, fresh tomato, basil; or tagliatelle Bolognese, a hand-cut spinach pasta, with traditional meat sauce, and Parmigiano Reggiano.
Choice of six handmade Napoli-style pizzas: marinara (crushed San Marzano tomatoes, garlic, Sicilian oregano); margherita (with crushed San Marzano tomatoes, mozzarella, and basil); prosciutto di parma e rucola; margherita with parma ham and wild arugula and salame piccante e funghi; margherita with spicy salame, and mixed mushrooms and alla norma, cherry tomatoes, basil, eggplant, smoked mozzarella, and ricotta salata, salsiccia with house-made sausage, caramelized fennel, mascarpone, red onion, and buffalo grana; and lastly, milanesa with Fontina, asparagus, Parmigiano Reggiano, and fried egg.
Choice of gelato for dessert; and you can splurge for $20 select wines available too.
Open for lunch 11:30 a.m. to 2:30 p.m. Monday through Friday; open for dinner 5:30 to 10 p.m., and 5:30 to 11 p.m. Friday.
Pizzeria Ortica is at 650 Anton Boulevard in Costa Mesa. Complimentary two-hour parking with validation is available in the Plaza Tower parking structure. 714.445.4900.
Full Moon Hiking!
Spectacular views under a full moon are all yours Tuesday at sunset if you join Laguna Canyon Foundation naturalists for a moderate, 3.5-mile hike through Laurel and Willow canyons and up to Bommer Ridge. Just bring a flashlight and water, and you'll be in for a special moonlit night. A donation of $2 per person, and parking costs $3.
Reservations required 949.923.2235.
Meet at the Willow Canyon Staging Area at 20101 Laguna Canyon Rd. just south of El Toro Rd intersection.
Laguna Coast Wilderness Park at 18751 Laguna Canyon Road in Laguna Beach.
---
More Daily Doses