Greer's Daily Dose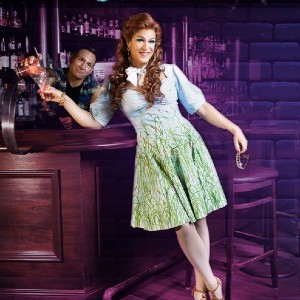 Off Broadway's Hilarious Tupperware Star Returns with Dixie's Happy Hour
02.01.21
She's back! Everyone's favorite Alabama redhead is entertaining, enthralling, and maybe even shocking to fans and newbies alike with her all-new streaming show, Dixie's Happy Hour. If you've seen Dixie's smash off-Broadway hit Dixie's Tupperware Party or spent time with her in Dixie's Never Wear a Tube Top While Riding a Mechanical Bull (and 16 other things I learned while I was drinking last Thursday), then you know Dixie's sweet charm and infectious Southern drawl is going to keep you in stitches! Performances are virtual February 9-21 at 7 p.m. p.m. each night.
Dixie's gone digital to bring you 95-minutes that include some new stories as she's mixing up a few cocktails and challenging you to find the Happy Hours that are right in front of you but you may be overlooking.
Dixie loves a good value, so tickets are $35 per household, perfect for gathering in small and distanced family groups in the comfort of your living room or as one of the simultaneous cocktail parties with festive friends in other locations.
They are available for purchase online at SCFTA.org or by calling (714) 556-2787. The show has ADULT CONTENT.
---
More Daily Doses