Greer's Daily Dose
Off Center Festival | Adventurous and Outrageous
01.18.18
Segerstrom Center's annual Off Center Festival returns January 19 – February 3, for a thrilling walk on the wild side of new theater, music and avant-garde performance art.
Making their Festival debuts: Philadelphia's drag artist Martha Graham Cracker in her cabaret show and the fabulous Shasta Geaux Pop. Roger Guenveur Smith returns with his new, unforgettable show, The Hendrix Project. And back by popular demand are The Car Plays, performed on the new Julianne and George Argyros Plaza. A theater experience like no other, audience members witness five short plays, each in a different car and only feet away from the actors.
The popular Off Center Lounge is moving to the lively Center 360 café on the Argyros Plaza. It will be open late each evening with a special low-cost post-performance menu. Audiences are encouraged to meet with Festival artists.
All tickets are $25 and are on sale now at SCFTA.org, at the Box Office at 600 Town Center Drive in Costa Mesa or by calling (714) 556-2787. Off Center, programs are recommended for mature audiences.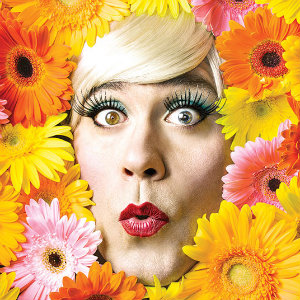 Martha Graham Cracker Cabaret │Off Center Festival Debut
Friday & Saturday - January 19 & 20 at 8:30 p.m. Studio Performance Space
Following sold-out shows in New York, Philadelphia and Las Vegas, the six-foot-two, fake eyelash-laden drag artist, Martha Graham Cracker, arrives in Orange County for her West Coast and Off Center Festival debut. She has a supersonic voice that can perform anything from Aretha Franklin to Prince to Black Sabbath to Nina Simone and everyone in between. Backed by a stellar band, get ready for a raucous, joyous, uninhibited, surprising and yet someone intimate ride! Tickets and more info here.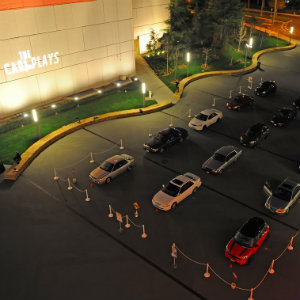 The Car Plays
Friday - January 19 & 26 at 5, 7:30 and 9 p.m.
Saturday & Sunday – January 20 & 21 and 27 & 28, 2018 at 3:30, 5:30, 7:30 and 9 p.m.
Julianne and George Argyros Plaza
Far and away an Off Center Festival fan favorite, The Car Plays returns with 15 Orange County premiere plays, four of which are world premieres. After checking in at the box office, you're escorted by "car hops" into the "parking lot" where you receive your "Notice to Appear" citation (or program). It's just you and one companion in the backseat of a parked car with only two other people – your cast – in the front seat. Your car doors close and the drama or comedy unfolds in front of you - just inches away. Ten minutes later, the doors open and you are ushered into a new car, where a whole new story begins. You'll never think of your car or the theater the same. Tickets and more info here.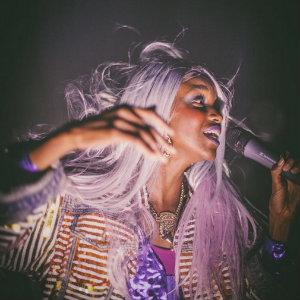 Shasta Geaux Pop Off Center Festival Debut Friday & Saturday - January 26 & 27 at 8 p.m. Samueli Theater
Celebrate the Off Center debut of an icon - the unforgettable, the fabulous, the outrageously hilarious and completely uncensored Shasta Geaux Pop. Crazy, irreverent and uplifting Shasta keeps it real with her gospel of laughter, her free-flowing emcee style to get the party jumping. A true show woman. A consummate entertainer. Shasta uses satire, her contagious energy, and sexy southern charms as she tackles naughty topics while paying sonic homage to the '80s and '90s classic era of Hip-Hop, teleporting the listener to elevated highs with her refreshed, remastered and newly expanded sound.
Seating for this event does not use traditional chairs. Tickets and more info here.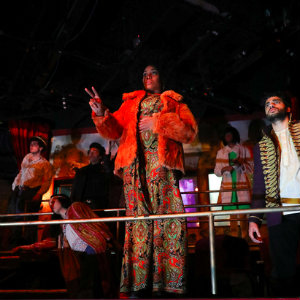 The Hendrix Project │Off Center Festival Premiere February 1 – 3, 8 p.m.
Samueli Theater
The Hendrix Project is another power theater work by Roger Guenveur Smith, creator, and star of 2015's solo tour de force Rodney King. It's New Year's Eve 1969. Jimi Hendrix's electronic blues trio, Band of Gypsys, plays a legendarily funky concert in New York City's legendary Fillmore East Auditorium. Twelve disciples have gathered in the upper balcony to bear witness, as heat is brought to a nation caught in mid-winter chill. As "bullets fly like rain", at home and abroad in Vietnam, the artists as audience movingly reimagine this iconic moment in rock and roll history. You are transported inside the concert experience, watching the crowd's ecstatic trance unfold through minutely choreographed movement. The grit and psychedelia of the time are brought to vivid life. The power of Hendrix's music is at the forefront as an audience unwittingly witnesses rock 'n' roll history. It's the end of the Sixties. And Jimi Hendrix's final New Year's Eve. Tickets and more info here.
---
More Daily Doses