Greer's Daily Dose
Orange County's Week To Eat!
02.20.13
Leave the cooking to the pros starting Sunday. The only thing you need to do is make reservations during the best week for dining out in Orange County. The OC Restaurant Week will be celebrating its 5th year anniversary on Sunday, Feb. 24 to Saturday, March 2. More than 100 of the best restaurants throughout the county will be creating delicious prix fixe menus for you to enjoy. It's a great opportunity to get out and dine, support local businesses and expand your culinary horizons.
At lunch you can order multiple course menus (starters, entrees and dessert) for $10, $15 or $20; and dinner menus start at $20, $30 or $40.
Our top 5 picks for OC Restaurant Week:
Chapter One: the modern local in Santa Ana. Already, we know we'll have a tough time choosing between these main dishes: steak chimichurri with yucca fries; or the herb and panko crusted Cornish hen, roasted corn jalapeno cheddar, cheese grits topped with sautéed kale, bacon and onion relish, ground turkey and mushroom gravy. A complimentary Moscow Mule and mini house donuts will complete the night.
MESA in Costa Mesa is making it so simple. Start with a sashimi tuna and beet salad, followed by pan seared scallops with organic baby vegetables, corn puree, applewood bacon, and shaved fennel salad; and lastly a housemade ice cream sandwich chocolate waffle, vanilla bean ice cream, and fresh strawberry sauce.
Lucca Café in Irvine. You're never going to be disappointed by the delicious plates coming out of Chef Cathy Pavlos' kitchen at Lucca Café and we can't wait to try her sausage and wild mushroom carbonara at lunch; or the beef shortribs at dinner with, red wine and balsamic vinegar braised, Yukon gold mash, baby spinach, horseradish creme fraiche and Cabernet reduction, but what has us most intrigued is the warm gingerbread cake, pear compote, creme Anglaise, and French vanilla ice cream for dessert.
Five Crowns in Corona del Mar is making culinary news with its new chef Greg Harrison, and his handmade pappardelle with mixed asparagus, truffle oil, parmigiano; and
roasted prime ribs of beef with choice of two: Lawry's creamed corn, creamed spinach or mashed potatoes, both sounds fantastic. We want to order the brioche bread pudding
with crème anglaise and dulce de leche too. The pix fixe menu at Five Crowns can also be paired with wines for $20.
And we haven't yet been to Prime Cut Café in Orange and we need to get in there soon. We want to try the spice-roasted chicken Jidori, all natural, free range, roasted to order (25 min.) with fire roasted pepper, currant, and pine nut relish with whipped potatoes; and the thick cut pork chop grilled and served with green beans, roasted potatoes, golden beets and a fresh apple and port wine sauce; or the trio of filet mignon tacos sound delicious with onions, cilantro, served with black bean corn salad.
You can view the entire lineup of restaurants and many have posted menus here.
Beauty Bar Happy Hours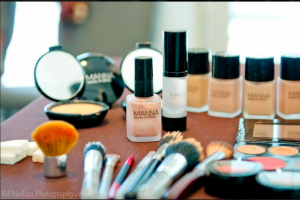 Manna Kadar Cosmetics is hosting an exclusive Beauty Bar event at Island Tan Salon & Spa in Laguna Niguel on Saturday from noon to 5 p.m. test out new exciting products in the Manna Kadar Cosmetics line. You can find the perfect lip color at the Pout Bar, and create the perfect smokey eye look at the Flirty Eye Bar, and top it off with the perfect sun-kissed glow. Learn how to give yourself a "7 Minute Mini Makeover" taught by Manna at 2 p.m. Also, Vanity Girl Hollywood, will be providing mirror for the glam event and a few surprise celebs that are scheduled to make an appearance.
RSVP to kayla@mannakadarcosmetics.com
30232 Crown Valley Pkwy, in Laguna Niguel. 949.249.0456

---
More Daily Doses