Greer's Daily Dose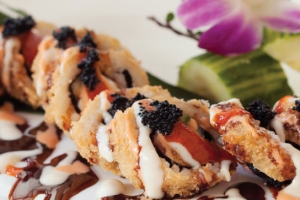 Otosan Sushi Opens in Long Beach at 2nd + PCH
11.19.20
Otosan, the much-anticipated sushi restaurant opening at 2nd + PCH in Long Beach, will officially open with takeout and delivery to start tomorrow. The restaurant's name means, which means father in Japanese, is a collaboration between a daughter and her restaurant veteran dad. Deciding she can wait no longer, Jae who is a first-generation Korean-American and this will be her very first restaurant venture.
"My dad has been operating restaurants throughout Alaska and the Pacific Northwest for more than four decades," said Woo. "I had always dreamed of bringing his culinary influences to California. This restaurant is a love letter to him, the man who taught me everything I know about the importance of sharing great food with others. And he still reminds me that restaurateurs are not in the business of food, but in the business of connecting with people through food."
Under the toque is Japanese-born Chef Tamuro Siego, who arrives to Otosan from a long line of sushi chefs having learned his craft at age 15 while working at his family's restaurant in his native Osaka. Chef Siego's vision for Otosan is to heighten guests' palates through a menu of fresh and succulent sushi coupled with traditional dishes paired with a curated selection of wine, beer and sake.
When indoor dining is safe again, guests will enjoy their meals against an upscale and contemporary backdrop featuring soaring 18-foot high ceiling, an exhibition kitchen, an elevated sushi bar with counter-style seating along with tables scattered throughout the restaurant. In addition, Otosan is taking all the necessary post-COVID19 safety measures including adequately spaced tables and seating, facial coverings worn by all team members, sanitizing of all hard surfaces, hand sanitizer for guests upon entering and temperatures taken prior to each shift.
The finishing touches are being put in the place with the culinary team undergoing training to prepare for its mid-July office. The restaurant is located on the ground level at 2nd + PCH, Long Beach's newest lifestyle center. The restaurant is open Monday-Saturday from 10 a.m.- 9 p.m. and Sunday from 11 a.m.- 7 p.m. Covered parking available as well as limited street parking. For more information, visit Otosan-sushi.com.
6480 E. Pacific Coast Highway in Long Beach. 562.431.1334.
---
More Daily Doses