Greer's Daily Dose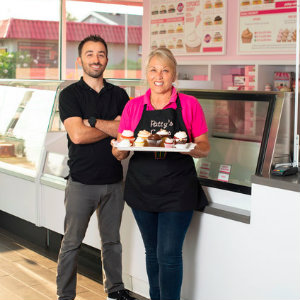 Patty's Cakes & Desserts Celebrates 10 Years
10.12.20
Patty's Cakes & Desserts is celebrating their 10th Anniversary with FREE cupcakes at their location in Fullerton on Wednesday, October 14! Their monumental milestone just so happens to fall on National Dessert Day, so the award-winning bakery is offering guests a free cupcake with their purchase all day. Patty's Cakes & Desserts offers nearly 100 varieties of cupcakes daily, including 50 regular, 21 vegan, and 20 gluten-free flavors, all of which are iced-to-order.

In addition to its regular menu of fresh-baked offerings, the award-winning bakery debuts a full lineup of gluten-free and vegan cupcakes available daily. They recently introduced new flavors like Very Berry Strawberry, Snickerdoodle, Blueberry Pancake, S'mores, and Chocolate Caramel Salty. With nearly 100 flavors of iced-to-order cupcakes available daily, Patty's Cakes & Desserts offers one of the largest and most comprehensive cupcake menus in the country.
In 1985, Patty Gomez started her business as a single mother from her home kitchen. Her passion for baking and cake artistry began as a home-spun hobby and has since grown into one of Orange County's most established and respected bakeries. Her expertise has earned her bakery national recognition as a nine-time recipient for both The Knot's Best of Weddings Award (2012-2020) and WeddingWire's Couples' Choice Award (2012-2020). Before its brick-and-mortar location, Patty's Cakes & Desserts held an exclusive dessert cake contract for Disneyland's prestigious Club 33 for four years.
With the help of her son Philip Gomez, Patty opened her brick-and-mortar location in Fullerton in 2010 and expanded her offerings to include iced-to-order cupcakes and fresh-baked cookies and cake balls, as well as elegant multi-tiered cakes.
The Fullerton-based bakery has also launched its own delivery fleet in response to a 350% increase in delivery requests due to the COVID-19 stay-at-home order.
In May, Philip launched his own delivery fleet and built a fully integrated ordering system, which provides customers with up-to-the-minute notifications on the status of their deliveries. Bringing the delivery component in-house allowed Patty's Cakes & Desserts to expand their delivery radius from 12 to 23 miles and increase revenue, all while passing along added savings and peace of mind to their customers.
The stand-alone retail bakery and tasting room have a contemporary design complete with modern finishings and floor-to-ceiling windows.
Open 10 a.m. to 9 p.m. Tuesday - Saturday for takeout, curbside pickup, and delivery.
Patty's Cakes & Desserts is located at 825 W. Commonwealth Ave. in Fullerton.

---
More Daily Doses