Greer's Daily Dose
Persevering Fashion
02.06.12
When it comes to supporting a brand of apparel that's wearable for everyday living, being outside, focusing on wellness, and fostering inner beauty, you must seek out the Element Eden Collection inspired by Amy Purdy. The Irvine-based collection of casual active wear is based on Purdy's incredible story, she's a snowboarder, skateboarder, actress, and a double amputee. Rather than allowing the tragedy of losing both legs to meningitis at age 19 end her love of snowboarding, she persevered, got back on a board, and continued to enter competitions. As a result she founded Adaptive Action Sports, a non-profit helping disabled children get on a board and ride.
Purdy is a longtime fan of the Element brand, and now was an advocate for their "Live, Learn, Grow" (LLG) collection she's can continue to inspire young women to live life to the fullest and grow from their experiences.
Choose from athletic shorts, slim fit pants with an elastic waistband, our favorite premium long sleeve knit with cowl neck made of bamboo from rayon fibers and organic cotton, as well as tanks, tees, and more.
To view the entire collection click here.
Element Eden Collection can be found throughout Orange County at Pac Sun, Becker Surf & Sport and 9 Star.
Peaceful bouquets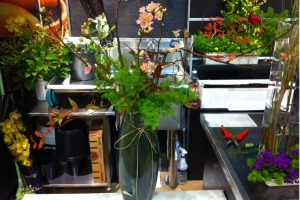 If you're looking for an extraordinary florist, you'll want to see the work of Junko Hiyane at Zen Gardens Floral. The tiny floral shop is within H. Mart, the Asian food market at Diamond Jamboree in Irvine. Junko is a darling woman who obviously loves her craft and has an extraordinary talent for designing simple arrangements that are breathtakingly beautiful. At Zen Gardens Floral you can have Junko make custom orders, even floral arrangements for weddings and events, or tiny boutonnieres and corsages for formals. She's at her shop everyday except Tuesdays. Let Junko design a bouquet for your next special occasion, you will be amazed at her work and affordable prices too.
H. Mart is open 8 a.m. to 10 p.m. Monday through Thursday; 8 a.m to noon Friday to Sunday. Zen Gardens Floral at H. Mart in Irvine at 2600 Alton Parkway in Irvine. 714.316.9684.
---
More Daily Doses