Greer's Daily Dose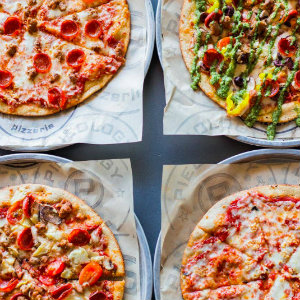 Pieology Pizzeria R&D Opens in OC
11.17.17
Pieology, the creator of personally-inspired pizzas just opened its newest concept, Pieology Pizzeria R&D in Aliso Viejo. It's the brand's epicenter for research and development for all Pieology eateries across the country.
The location offers a rotating menu of exciting new offerings and concepts, from new ingredients to creative flavor combinations. While the pizza is the main focus, this location has an impressive selection of craft beers and cider, wines on tap, and six refreshing lemonades infused with flavors such as Blood Orange Basil and our favorite Cucumber Mint L­­emonade. The pizza selections range from custom pies, chef-inspired pies, and create your own pies--all priced at just $8.49. You can choose your crust: house-made original, whole wheat, thick crust and gluten-free; and sauces, cheese, toppings, meat and after bake sauces such as pesto, BBQ sauce, and fiery Buffalo sauce. You can also enjoy signature salads, sides and sweets—you have to order the Ooozy Gooey Cheese Bread! You'll order at the counter, and unlike other Pielogy locations, your server will bring your order to your table.
"While some brands plateau in success, we want to continue to think outside the box and push our limits. Pieology R&D is a direct reflection of our investment in research and development to explore new creations and offerings," said Pieology Chief Operating Officer, Clay Sanger. "We want to hear directly from consumers what they want to see from Pieology. No idea is too wild or flavor combination too bold – we want to explore it all with the help of our loyal customers."
Leading the flavor exploration is world-renowned chef Glenn Cybulski. The award-winning chef and certified Italian Pizzaiolo brings over 25 years of restaurant experience to Pieology R&D, where he combines his technical skills and expertise from the Scuola Italiana Pizzaioli with customer feedback and inspiration to deliver the future of fast-casual pizza.
Pieology R &D will listen to your feedback, and that will, in turn, affect the restaurant's decisions and offerings. Each table at the restaurant will have consumer feedback cards, in addition to a URL survey option, to share feedback directly with the brand.
Open 11 a.m. to 10 p.m. Monday through Thursday; 11 a.m. to 11 p.m. Friday and Saturday; 11 a.m. to 9 p.m. Sunday.
Pieology Pizzeria R&D is at 2661 Aliso Creek Road in Aliso Viejo. 949.680.4333.
---
More Daily Doses