Greer's Daily Dose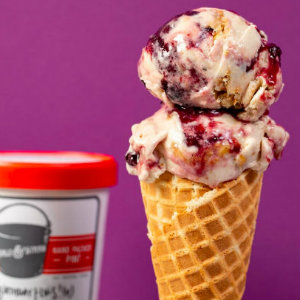 Plant Based Ice Cream Launches at Salt & Straw
12.28.18
Orange County's first Salt & Straw shop at the Downtown Disney District in Anaheim is launching a commitment to making 20% of the menu vegan moving forward and kicking off 2019 with a killer "Vegandulgence" January flavor series.
Crafted by co-founder and head ice cream maker Tyler Malek, the 2019 inspired series is available starting today. The plant-based ice cream flavors, each prepared by hand in small batches, include Toasted Coconut Milk & Cookies, The Elvis Peanut Butter Banana Split and Oatmeal Moon Pies w/Aquafaba Marshmallow. The offerings will be available at the Downtown Disney scoop shop through the end of January with pints available to pick up in the shop or for delivery through Postmates.
Toasted Coconut Milk & Cookies — coconut ice cream blended with dark-toasted shredded coconut and a bit of molasses with gluten-free salted chocolate chip cookies and almond milk chocolate ganache added in.
Elvis' Peanut Butter Banana Split — bananas mixed with coconut ice cream and cashew butter and marionberry jam and peanut butter "bacon" butter to top it off in celebration of the King's favorite food.
Oatmeal Moon Pies w/Aquafaba Marshmallows — toasted oatmeal and chickpea cookies layered with pillowy aquafaba marshmallow filling and chocolate stracciatella mixed into chocolate coconut ice cream.
Open 10 a.m. – midnight, daily.
1550 Disneyland Dr. E-103A, Anaheim. 714.855.4321.
Image courtesy Salt & Straw.
---
More Daily Doses