Greer's Daily Dose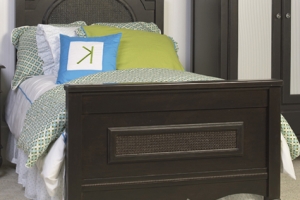 Playing House
05.28.10
The first-ever Newport Cottages store, a high-end children's furnishings and décor company, just opened at Fashion Island. It's already a favorite with celebrities like Halle Barry, Nicole Richie, Minnie Driver and Tori Spelling who outfit their kid's rooms in handcrafted furniture and artisan pieces. Choose from beds, bunk beds, dressers, side tables and nursery pieces. Shoppers will also find a variety of chandeliers and lighting, artwork, custom bedding, and an international selection of unique gifts. The store can also provide nursery design services and custom furniture.
The SoCal-based company is owned by Pockets Alvarez, a father of three young boys who makes furniture that is functional, safe and a quality that can withstand everyday use. Crafted from select domestic hardwoods and implementing traditional woodworking techniques, a hand-rubbed finish is carefully applied to each piece before it's inspected by quality control team members.
At Atrium Court at Fashion Island in Newport Beach. 949.644.4122.
Go Girl!
Join Step Up Womens Network & SMARTYOC for an evening dedicated to five women who took an entrepreneurial dream and made it a reality Wednesday from 6:45 to 9 p.m. at The Shorebreak Hotel in Huntington Beach. "From Solopreneur to Luminary" is open to the public and guests of SmartyOC, a resource for entrepreneurial women in every phase of business. Step Up Women's Network is a national nonprofit membership organization that bridges communities of professional women and under-served teenage girls through mentorship, networking and advancement.
The event begins with networking opportunities at 6:45 p.m., followed by panel discussion concluding at 9 p.m. I will be moderating the event, panelists include Chalene Johnson, CEO of Powder Blue Productions and creator of TurboKick; Dr. Sherri Worth, Cosmetic Dentist; and Susan Irby, the Bikini Chef.
The Shorebreak Hotel at 500 Pacific Coast Hwy. in Huntington Beach. Register here.
---
More Daily Doses