Greer's Daily Dose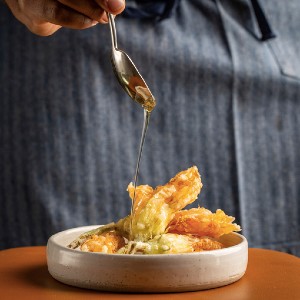 Poppy & Seed Launches with Limited Menu this Week
03.02.21
Michael and Kwini Reed, the husband-and-wife duo behind Los Angeles' beloved comfort food spot, Poppy + Rose, are opening their newest concept, Poppy & Seed this spring. Taking over the popular greenhouse space at the Anaheim Packing District, Poppy & Seed will feature American comfort food with a unique, elevated twist and fresh ingredients sourced from local Southern California gardens as well as an in-house garden where Chef Reed will grow his own microgreens and herbs.
Starting Wednesday, March 3, guests have the opportunity to experience a limited menu that will be available for takeout and delivery while the restaurant gears up for outdoor dining. The sneak peek menu includes signature dishes such as housemade Cacio e Pepe, Roasted Local Sea Bass with Italian salsa verde, and a Fried Chicken Sandwich with buttermilk-brined chicken thigh, house pickles, and aioli.
Poppy & Seed's menu is categorized by small, medium, and large shareable plates that are laid out in a format that evokes conversation among the entire party when deciding on dishes for the table (six to eight dishes are recommended). Items like Zataar and Citrus Marinated Olives, Grilled Shishito Peppers and Pear Tartine with Speck Ham lead the discussion as the menu slowly grows into medium-sized dishes including Hawaiian Kampachi Crudo and Housemade Gnocchi with dolcelatte cheese, apple, walnuts and herbs. Larger, protein-rich entrees include Smoked Duck Breast with pear, chili, pickled onion, rye crepe, herbs, honey, and vinaigrette; Chicken Schnitzel with breaded half chicken, pickled beets, bitter greens, mustard seeds, blueberry compote, and chicken jus; and Rosewood Wagyu Hanger Steak with preserved sweet cherry tomatoes and fingerling potato.
A full list of craft cocktails, beer, and wine will also be available once the restaurant opens for outdoor dining.
The perfect venue to house the Reed's vision of a garden-inspired concept, Poppy & Seed, lives in a 1,650-square-foot open-air greenhouse situated in the Anaheim Packing District. Rustic wood furnishing, lush greenery and glass walls and ceilings throughout create a fresh, atmospheric environment for diners where they can enjoy the outdoors while sitting inside (once indoor dining resumes). A 3,300-square-foot patio space surrounded by manicured landscaping will allow several guests to dine safely while maintaining social distancing. A separate 200-square-foot private patio will act as the ideal space for small parties, business luncheons, and more.
Open 6 p.m. to 11 p.m. Monday to Wednesday; 4 p.m. to 12 a.m.; Thursday to Saturday; 3 p.m. to 10 p.m. info@poppyandseedoc.com
350 S. Anaheim Blvd. in Anaheim. 714.603.7130.
Image courtesy Max Milla
---
More Daily Doses