Greer's Daily Dose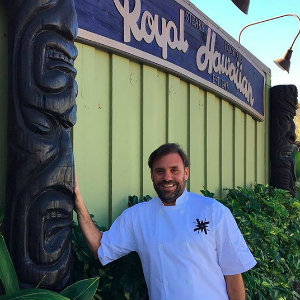 Popular Restaurateur & Chef Maro Molteni Opens Royal Hawaiian
04.03.19
Popular restaurateur and chef Mariano ("Maro") Molteni formerly of Maro Wood Grill reopens the iconic, Royal Hawaiian established in 1947 in Laguna Beach today.
After years of success and accolades at his Laguna Beach restaurant, Maro Wood Grill, Chef Maro Molteni sold his restaurant in July 2017, allowing the new owners to keep his moniker. He and his family returned to Argentina, where he worked with older chef brother, Martin, on completing and debuting a number of large culinary projects.
Upon returning to Laguna Beach a year later, Molteni was determined to find a larger restaurant space in Laguna. An iconic landmark since 1947, Royal Hawaiian most recently changed ownership in 2015 when Mo Honarkar purchased the commercial property that includes the restaurant. A management team within the Honarkar ranks re-opened the restaurant at that time and has since been operating the well-known tiki bar concept. In the new agreement, Honarkar's company will act as landlord while Molteni owns and operates the restaurant's business.
While Maro Molteni has worked on interviews, hiring, and interior and kitchen changes, his older brother, Chef Martin Molteni, is helping with kitchen management decisions and the revised Polynesian menu.
Martin Molteni will be joining his brother in the new venture. The two brothers have independently collected a host of awards and accolades regionally and internationally, but have decided to devote "the next decade ahead" to collaborating and creating successful concepts together.
Chef Martin plans to travel regularly between Laguna Beach and the culinary empire he has created in Argentina.
Born and raised in Argentina, the Molteni brothers will continue to pay homage to Royal Hawaiian's Polynesian culture, particularly as wood-grilled beef, chicken, pork, and seafood is so much a part of that world. For centuries, Hawaiians have crafted their meals over open wood fires in the great outdoors, a culinary skill that syncs beautifully with similar Argentinian heritage.
"After the Royal Hawaiian opened in 1947, it enjoyed decades as the "go-to" place for the greatest steak and freshest fish around," said Chef Maro. "Of course, the Lapu Lapu drink is never going to go away, but the real 'nostalgia' we're interested in has to do with creating that amazing Polynesian steakhouse again."
331 N. Coast Highway in Laguna Beach.
Image by Molteni Kitchen
---
More Daily Doses