Greer's Daily Dose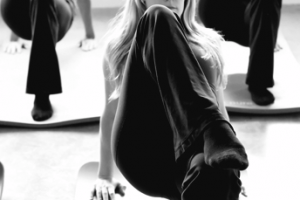 Raising the Barre
03.02.10
OK, we've already published our eco-friendly Secrets of OC Athletes E-Zine with plenty of inspirational stories about fitness and health. Here's another: Pure Barre, which now has two OC studios in Irvine and Costa Mesa.
The Pure Barre technique blends elements of ballet, Pilates and free weights in a 55-minute session (as if an hour would be too intense). Fans of the workout say the benefits include burning fat, toning arms, and flattening abs. The method was founded by Carrie Rezabek, a dancer, choreographer and fitness enthusiast in Birmingham, Minnesota nearly ten years ago. With a devoted following she expanded to offer studios across the country. Pure Barre offers classes daily, and at both OC locations there's a new client special with 30 days of unlimited classes for $100.
Pure Barre is in Quail Hill Village Center at 6791 Quail Hill Parkway, off Shady Canyon and the 405 Freeway in Irvine, 949.500.5924; and at
E. 17th St., Suite 116 in Costa Mesa, 949.230.9131.
Sushi lunch for $12
Kingyo Sushi, a fine Japanese restaurant and sushi bar at Newport Coast Shopping Center, recently hired a new sushi chef, Sung Lee, trained by a traditional-style master. Lee offers more than 60 varieties of fresh sushi, sashimi and special rolls in traditional and modern styles.
And he's introduced a new $12 lunch menu with a variety of combinations featuring sushi and sashimi, tempura, or other entrées, with steamed rice, miso soup and salad. A variety of the finest Japanese Sake and wine are also featured, as well as more than 20 different hand-selected sakes. Open for lunch 11:30 a.m. to 2:30 p.m Monday through Saturday, and daily from 5 to 10 p.m. for dinner, from 5 to 10 p.m. Kingyo Sushi is at Newport Coast Shopping Center at San Joaquin Road and Newport Coast Drive in Newport Beach. 949.721.5883.
---
More Daily Doses