Greer's Daily Dose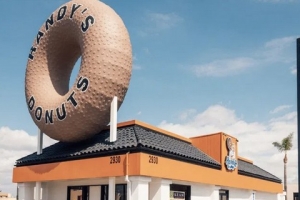 The Iconic Randy's Donuts Arrives in OC
03.11.21
When Newport Beach resident Mark Kelegian purchased the iconic Randy's Donuts in Inglewood six years ago, his dream was to expand the brand with his family and open multiple locations. They've already opened Randy's Donuts in El Segundo, Pasadena, Torrance, and even franchises in Korea and Saudia Arabia.
Thankfully, they also expanded to Orange County! Randy's Donuts just celebrated it first Orange County location on Harbor Boulevard in Costa Mesa. You cannot miss the iconic 25 ft rooftop donut that Randy's Donuts is known for at the former Jack in The Box location. More Orange County locations are in the works.
Randy's Donuts are beloved for nearly 60 years! They're proud of their expert bakers, secret recipes, proprietary ingredients, and handmade goodness. Their donuts are fluffy, airy, large, and known for staying fresh longer. Choose from classic, deluxe, fancy and premium donuts.
Walk-in is open 5:30 a.m. – 9 p.m. daily, drive-thru is open 24 hours.
2930 Harbor Blvd. in Costa Mesa. 949.674.5977
---
More Daily Doses