Greer's Daily Dose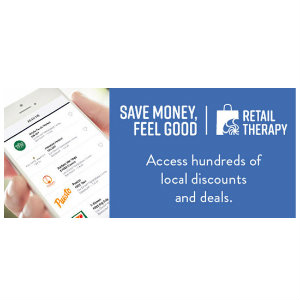 Save Money, Feel Good. Retail Therapy.
10.02.17
The Special Offers program you've come to know and love from Irvine Company Retail Properties has gotten a makeover! Now officially named Retail Therapy, the updated program still gives you access to hundreds of local discounts throughout Irvine, Tustin, and Newport Beach, but now with more ease of access with the NEW Retail Therapy mobile application.
Let us explain. Imagine you're standing in line at Miguel's Jr. at The Market Place and when it's your time to order, you suddenly remember the 20% OFF discount you saw on Retail Therapy. You're in a rush to bring home dinner to your family post-soccer practice, though, and don't have time to search through a website to hunt for the offer. So, you hurriedly leave without redeeming the offer. Now, imagine the same scenario but you instead have already downloaded the Retail Therapy app onto your phone. You're at the register and now all you need to do is simply open the Retail Therapy app, go to your favorites list, and ta-da! the offer is right there. It's as easy as a swipe and a tap!
With the Retail Therapy app, enjoy numerous search features that ease the process of finding the best deals, including filtering by category, filtering by store name, filtering by shopping center name, and using the "near me" location-based search. Save offers as favorites within the app or add them to your Apple Wallet, making it simple to access and use at moment's notice.
Retail Therapy gives you on-the-go access to hundreds of discounts and incredible deals for local experiences, restaurants, spas, salons and more from both local businesses and national retailers in Orange County. The offers change quarterly making it fun to see what's new in the area and help plan your day of shopping and/or dining. Right now, some of our favorite offers are: $10 OFF at Whole Foods Market, FREE toppings at Churned Creamery, $25 OFF at Blue Eyed Girl, a FREE small plate at California Pizza Kitchen, $5 OFF at Happy Nails and Spa, a FREE taco at Puesto, 3 FREE classes at Radiant Hot Yoga, and $10 OFF at Old Navy. These offers —and over 400 more — are good through October so take advantage of them soon!
Visit RetailTherapyOffers.com for access to the offers on your desktop or download the Retail Therapy app from the iOS App Store or Google Play Store and start saving today!
---
More Daily Doses