Greer's Daily Dose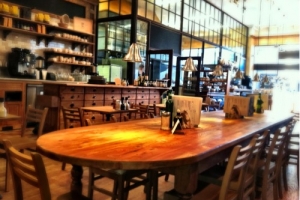 Saveur Le Pain!
10.19.11
The wait is over! Le Pain Quotidien, a beloved Belgian bakery and cafe, has opened at Fashion Island in Newport Beach. Sit at its communal table or patio with incredible ocean views for renowned tartines, organic drinks, and desserts.

This location is extra special: it's one of only two Le Pain Quotidiens in the world that boasts an on-site bakery. (The bakery will also offer baking classes to share the secrets of its organic bread which is still kneaded and shaped by hand.) Each day artisan bakers will bake fresh wheat, rye, spelt, five-grain walnut bread, baguettes, French rolls, brioche, croissants, muffins and other pastries.

Le Pain Quotidien offers breakfast, lunch and dinner or take-out (even vegetarian and vegan options). Choose from soups, salads, tartines (open-faced sandwiches, a house specialty) with more than a dozen varieties, including Paris ham and aged gruyère with cornichons and mustard trio; organic black bean hummus with avocado and spicy tahini; smoked Atlantic salmon with avocado and chopped dill; and chicken curry salad with a side of harissa-cranberry chutney.
Fall specials will include a broccoli, ham and Swiss frittata; vegan cherry scone; gazpacho; roasted turkey, brie and honey mustard tartine; endive, Fourme d'Ambert and pear salad; French lentil, chickpea and avocado salad; mixed grape and walnut tart; and sparkling hibiscus fea.
The bakery-café offers an exclusive line of specialty products, including single estate Peruvian coffee beans, Belgian chocolates, jams and fruit preserves, artisanal olive oil from Tunisia, Italian honey, sea salt and black pepper, and balsamic vinegar.
In celebrating of its grand opening Le Pain Quotidien is hosting an event aimed to "Help End Childhood Hunger" for Share Our Strength on Thursday, Oct. 27 from 5 to 8 p.m.
At the event you can take a peak at the bakery, to see the secret behind the brand's organic bread. All sales at grand opening will go toward Share Our Strength's local chapter
Tickets cost $40 per guest, and can be purchased by contacting Judy Walker at 949-481.7792 or via email at jwalker@strength.org.

Open from 8 a.m. to 10 p.m. daily. For more information, including menus, catering information and baking classes, visit www.lepainquotidien.us.
---
More Daily Doses