Greer's Daily Dose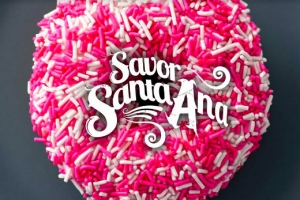 Savor Santa Ana
10.12.18
Each year at Savor Santa Ana, more than 40 downtown Santa Ana restaurants fling open their doors for small bites and libations as you walk through music-filled streets of DTSA. Savor Santa Ana is back on Saturday, October 13 from 5:30 p.m. to 9:30 p.m. all over downtown.
Walk door-to-door or take a trolley to hear live musicians and student performers, meet local food scene entrepreneurs, taste from local restaurants, and see downtown Santa Ana's historic buildings beautifully restored with wood, brick, glass and steel.
One of OC's most historic cities is now home to not one but two food halls, and dozens of food options that feature everything from Santa Ana's hallmark traditional cuisines from northern and central Latin America, to millennial-generation experimental foods, modern Mexican, modern Filipino, wine bars and bistros, and central and southeast Asian traditional and fusion fares.
TASTING TICKETS: $10 gets you 5 tasting tickets to redeem at any of 40+ participating restaurants and eateries. Order as many sets of 5 tasting tickets as you like. Buy tickets online in advance at SavorSantaAna.com. Tickets will also be available for purchase during Savor Santa Ana at two locations: East End: 4th and Spurgeon, and West End: 4th and Broadway. Ticket booths will open at 5 pm and will be CASH ONLY.
The event features restaurant tastings and East End incubator kitchen tastings; free trolley rides; Viva La Vida street cultural event with entertainment by Kilson Street; cool craft beer and cocktails for the adults! There will also be new restaurants participating like Element 7, Cevicheria Nais, Chevita's, Ramen Tokudai, Graze & more.
---
More Daily Doses