Greer's Daily Dose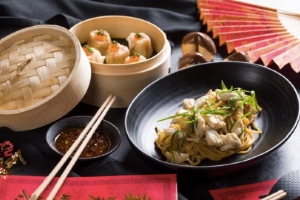 Select South Coast Plaza Restaurants Celebrate Lunar New Year
02.04.21
Select South Coast Plaza restaurants will celebrate Lunar New Year with special menus for home and outdoor dining. Confectioners and bakeries offer an assortment of treats, some with festive Year of the Ox gift packaging.
OUTDOOR DINING
WATER GRILL -- Water Grill honors Lunar New Year with an à la carte menu of four symbolic dishes. Enjoy shrimp shumai with crispy chili sauce ($15), garlic noodles with jumbo lump crab and green onion ($17), whole crispy black sea bass with cilantro, tangerine, radish and XO sauce ($41 by the pound) or wok-fried local spiny lobster ($56 by the pound). Order any of the dishes on Lunar New Year, February 12, and receive complimentary chocolate-dipped fortune cookies. Available February 3-28.
Shoppers who visit Water Grill's Saturday Market February 6 or 13 may buy a garlic noodle kit for home. It includes noodles, jumbo lump crab, green onion, crispy garlic, sauce and directions to assemble. $18. Receive a bonus of two chocolate-dipped fortune cookies with purchase. Market hours 9am-3pm.
For reservations: click here or please call 949.208.7060
OUTDOOR DINING OR TAKEOUT
ANQI BISTRO - Highly acclaimed House of AN has designed its annual Lunar New Year five-course feast for patio dining or at home. AnQi's fans will enjoy a special menu of quail egg and oxtail dumpling broth, Japanese Wagyu beef, Santa Barbara uni with gold leaf and the famous garlic noodles, sea bass with caramelized shallot, and dessert of red sticky rice with mandarin, seasonal fruits and coconut sesame sauce. Those with a receipt from any South Coast Plaza boutique will receive a sixth complimentary course of a trinity dessert and red envelope for good luck. $176 for two, before tax. Preorder required, available February 10-12.
To preorder: email ANTHEGOANQI@HOUSEOFAN.COM, text 714.504.2822 or call 714.557.5679. For reservations: please call 714.557.5679
KNIFE PLEAT -- Michelin-starred chef Tony Esnault of Knife Pleat has created a three-course menu that honors the traditional foods of the holiday. The elegant experience starts with duck dumplings in an aromatic Szechuan consommé, entrée of sea bream with exotic mushrooms and for dessert a citrus mooncake with jasmine mousse. $49 per person, before tax. Pastry chef Germain Biotteau's collection of six signature macarons with Asian-forward flavors such as mandarin, mango and black sesame is available in a decorative box. $18. Available for online preorder and pickup February 10-24. Limited outdoor dining. The three dishes may be ordered à la carte for patio dining February 10-24. For reservations: please click here or call 714.266.3388
DIN TAI FUNG - For guests wishing traditional dishes for the holiday, the immensely popular Din Tai Fung is known for its outstanding takeout program of the entire menu. To order for pickup or delivery, click here. Limited outdoor dining available. For reservations: please click here.
TAKEOUT
TIFFANY & CO. BLUE BOX CAFE - The Blue Box Cafe at Tiffany & Co. will add Lunar New Year touches to its delightful Tiffany Tea for Two at home. The sumptuous offering includes savory and sweet bites and a proprietary tin of Bellocq No.727 The Tiffany Blend: A fragrant, floral infusion of Chinese and Ceylon black teas with notes of lychee, rose buds, lavender and vanilla. $150 for two, before tax. 48-hour preorder required. Please call for availability dates. 714.540.5330, press 7. To view menu and to preorder 48 hours in advance online, click here.
FEBRUARY LNY TREATS - Stop by and pick up both sweet and savory mooncakes at The Hall Global Eatery in the pâtisserie.
Sugarfina offers an array of beautiful, limited-edition candy gifts for Lunar New Year, with festive red and gold packaging and a gold ox charm. Custom-make a bento box with seasonal candies such as chocolate orange peels, peach blossoms, lotus flowers, sugared tangerine slices and peach tea bears.
To view the Sugarfina Lunar New Year collection, click here.
See's Candies has gifts, chocolates, and treats for a prosperous New Year. A favorite is the Lunar New Year milk chocolate gold coins. Gift wrapped in red and gold for Year of the Ox. To view See's Lunar New Year collection, click here.
---
More Daily Doses