Greer's Daily Dose
Sensitive Sweets in OC
07.12.11
Problem solved for those looking for a bakery that specializes in amazing treats that are free of wheat (gluten), dairy (casein), eggs, soy, and nuts. Sensitive Sweets in Fountain Valley is a dream come true for vegans and everyone with dietary restrictions.

Owner and baker Melanie Hohman developed the concept after her youngest son developed serious food allergies at just 9 months old. Sadly, he could not eat anything that contained wheat, gluten, eggs, dairy, soy, and certain fruits and vegetables.

Through trial and error, she's perfected recipes that adults and kids will love who otherwise have limited options—and her crowning moment, to bake a delicious birthday cake that her son and everyone who deserves a treat can enjoy. Stop in for some fresh baked cookies, brownies, muffins, cupcakes, breads, or order a custom cake.
Stop by Wednesday from 5 to 7 p.m. for a grand opening celebration complete with giveaways, and free cake and samples. Proceeds from the event will benefit TACA (Talk about Curing Autism) and FAAN (Food Allergy Anaphylaxis Network).
Open 10 a.m. to 6 p.m. Tuesday through Friday; 10 a.m. to 5 p.m. Saturday. Closed Sunday and Monday.
17431 Brookhurst St., in Fountain Valley. 714.968.9169.
Muchathon!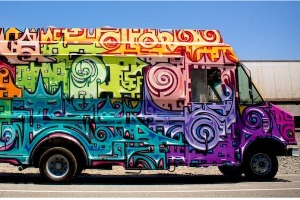 Here's a clever way to eat and run! The first-ever Munchathon arrives in Orange County at Oak Canyon Park near Irvine Lake. The good people who thought up this one are combining a 5K food-themed fun run/obstacle course with food and beverage stops, as well as a festival of more than 40 gourmet food trucks. Gourmet food truck followers will be thrilled to know that favorite trucks will be participating including Nom Nom, The Lime Truck, Seabirds, and Ludotruck (some say the best fried chicken there is).
Registration (includes festival admission) now through Friday for runners costs $55 and for a team is $220. General admission tickets cost $12 and early admission festival tickets (10 a.m. entry time) cost $22. Children ages 6 and under are free. Oak Canyon Park is at 5305 Santiago Canyon Road in Silverado.
Register or purchase tickets here munchathon.com.
---
More Daily Doses