Greer's Daily Dose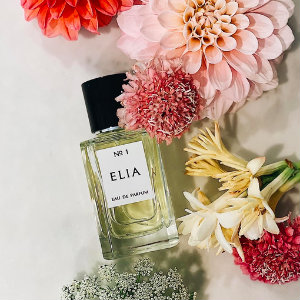 Shop for a Worthwhile Cause with this Floral Scent
10.26.20
A Newport Beach entrepreneur with a passion for promoting female empowerment and fighting human trafficking has launched Elia Parfum, a fragrance line that donates a portion of every sale to fight human trafficking.
Amanda Meyer, who has 15 years of experience in the fashion industry, combined her love of fragrance with her dedication to helping others to create Elia Parfum. She is currently partnered with A21, a leading global anti-trafficking organization with a regional office here in Orange County, to help in the fight against human trafficking, designating 10% of every sale to the organization.
The fragrance line's debut scent is Elia No.1, a blend of citrus, florals, and musk. The floral notes of gardenia, tuberose, English Rose, jasmine, and peony give this scent life and femininity, while a citrus note of orange blossom gives a burst of freshness. The musky base notes are designed to blend with your natural pheromones allowing you to smell like the best version of yourself.
Elia No. 1 is available in 5, 10 and 50ml bottles as well as soy candles, with prices ranging from $20 to $120. The scents are available online at eliaparfum.com.
"This year has been challenging and unique for all of us and has provided me time to reflect and reprioritize my life. I decided to pursue my passion of empowering women and fighting human trafficking with my love for fashion, scents, and desire to help others on a greater scale," explains Meyer.
"Today more than ever, people are awakening to social injustices and looking for ways to give back and put their money toward companies that support worthwhile causes," said Meyer. "Creating a perfume that helps give women confidence while knowing they are making a difference in the lives of others, is an invaluable gift."

---
More Daily Doses