Greer's Daily Dose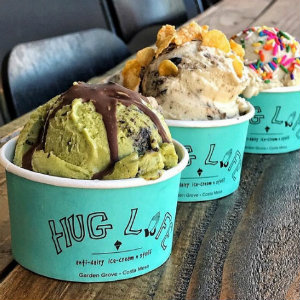 SoCal's First All Plant-Based Ice Cream Shop
08.26.18
If you're lactose intolerant, vegan, or just want to try a new frozen sweet sensation, you'll need to discover Hug Life, which serves house-made dairy-free ice cream, shakes, ice cream sandwiches, Root Beer floats, and specialty cakes. Its original shop is in Garden Grove, and it just opened a second location in Orange.
The creamery serves generous scoops of "anti-dairy" plant-based ice cream made from a mixture of organic soy milk and organic coconut milk and sweetened with organic cane sugar, Nectar extract, and juice.
Flavors include classics such as chocolate, Rocky Road, vanilla, strawberry, and cookies 'n cream, as well as creative flavors such as Vietnamese coffee, taro, thai tea, mint pandan chocolate chip, Reese's peaces, mango chamoy (sorbet), dark chocolate and roasted black sesame seed with activated charcoal. Toppings include sprinkles, marshmallows, cereals, nuts, chocolate, vegan whipped cream and more.
Their flavors are amazing, and the texture is great considering they are not working with a traditional dairy base. First-timers are saying they had no idea it was possible to enjoy vegan ice cream so much.
Open noon to 11 p.m. daily.
14241 Euclid Street in Garden Grove. 714.760.4345
3505 Chapman Ave. Ste G in Orange. 714.602.8006.
---
More Daily Doses