Greer's Daily Dose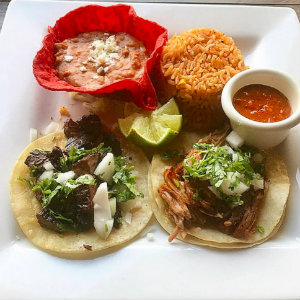 Sol Agave, From Food Truck to Second Eatery
10.01.18
Sol Agave, known for its authentic Mexican cuisine, just opened at Kaleidoscope in Mission Viejo. The restaurant, located on the upper level of the dining and entertainment center as part of Union Market Mission Viejo, is open for lunch and dinner daily.
Restaurateur Jesus Galvez and his partner Chef Manny Velasco, who was honored as the Golden Foodies 2017 Rising Star Chef of the Year, were at the forefront of the food truck trend when they started Sol Agave as a taco truck in 2015. They attracted such a loyal following for their upscale Mexican cuisine that they decided to open a restaurant in San Juan Capistrano in 2016. The success of that original location leads to moving into a larger space within the same retail center just a year later.
Most of Sol Agave's menu is the same as the original location, with a focus on organic ingredients, fresh seafood, USDA Prime steak, and all-natural pork for its carnitas. New to the Kaleidoscope location is a gourmet taqueria section with handmade tortillas, and new specialty items including Ceviche a la Mesa with fresh mahi-mahi served with tostaditas.
Signature dishes that have remained at the new location include Our Famous Carnitas (chef's famous Mexican braised pork, served with rice, refried beans, sour cream, guacamole, "trocka" sauce, and hand-made corn tortillas), Tacos de Hongo (skirt steak, portabello mushrooms, grilled onions, and cheese served on a hot skillet with salsa morita, rice, refried beans, and hand-made tortillas), and Camarones Vallarta (jumbo breaded Mexican prawns, butterflied and stuffed with Dungeness crab, topped in a Creole tomato spicy sauce, and served with cilantro rice.)
Sol Agave's popular cocktails include the Table Side Old Fashioned (Hornitos Black Barrel añejo tequila, Corazon chocolate bitters, splash of agave and mango) infused and flamed tableside with rosemary and orange. Sol Agave also offers an array of margaritas, including the Grilled Piña Margarita (Maestro Dobel tequila, muddled grilled piña, jalapeños, agave mix, chili rim.) Guests should be sure to save room for the Sol Agave Mexican Coffee (artisan cinnamon-based coffee with tequila, Kahlua, and Bailey's.)
Open from 11 a.m. to 9 p.m., Monday through Thursday; 11 a.m. to 10 p.m. Friday and Saturday from and 10 a.m. to 9 p.m. Sunday. Daily Happy Hour from 3 to 6 p.m.
The restaurant is on the top level of Kaleidoscope at 27741 Crown Valley Parkway in Mission Viejo. For reservations or more information, call 949.446.8058 or visit solagavesjc.com.
Sol Agave is also at 31111 Rancho Viejo Road in San Juan Capistrano.
---
More Daily Doses