Greer's Daily Dose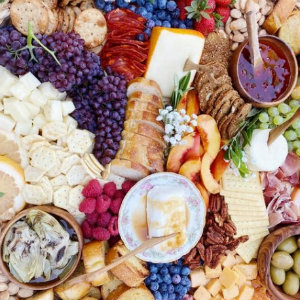 Sophisticated Spreads Grazing Tables and DIY Classes
10.15.20
With a love for creating cheese & charcuterie boards and entertaining their friends and family, Sophisticated Spreads was created by Emmy Rener and Katie Lowhorn of Newport Beach. Sophisticated Spreads offers catered grazing tables, to-go boxes, and DIY classes.

They can create show-stopping grazing for you and your guests. The ideal setup for your next birthday party, graduation, wedding, or any celebration to share with those around you. With fresh locally sourced meats and cheeses, they will make your table come to life!

Or you can send a custom box to brighten someone's day or to take with you on the go. They offer small, medium, and large boxes as the perfect gift for hosting, birthdays, dinners, and date nights. With an easy ordering process online you can enjoy a box the following day.

Emmy and Kate also offer DIY classes and will come to your home for a one-on-one session on how to build your dream grazing board! It's the perfect activity for a group of friends who would like to learn the techniques behind the art! At the end of class, everyone will have their own crafted board to go home with!
For more information on ordering and pricing email
emmykateevents@gmail.com or visit Sophisticatedspreads.net

---
More Daily Doses