Greer's Daily Dose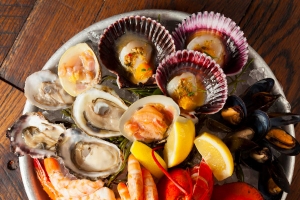 South Coast Plaza's New Year's Eve Fine Dining at Home
12.30.20
South Coast Plaza's fine dining restaurants offer a variety of special takeout menus for end-of-year celebrations. Please see the details below for preordering online.
Here's to 2021!
WATER GRILL
For the ultimate in DIY seafood for New Year's Eve, shop the popular Market Sale at Water Grill on December 31. Select from an extensive offering of shellfish--oysters, shrimp, mussels, clams, lobster and crab--to create a chilled seafood platter (offerings may vary). A variety of prep kits are available for easy cooking at home that include misoyaki Chilean sea bass, cedar plank salmon, sauteed Manila clams and BBQ shrimp.
Fresh produce, artisan bread, dry-aged beef, desserts, wine, and to-go cocktails may also be purchased. Water Grill provides concierge shopping to ensure safety.
Thursday, December 31, 9 a.m.- 3 p.m. (8:45 entry for seniors). For more information, click here or please call 949.208.7060
ANQI BISTRO
Indulge in an exclusive four-course New Year's Eve dinner for two from the acclaimed House of An. Begin with squash and lobster bisque with chestnut gnocchi. Next, enjoy snow fish with risotto, ginger, and scallions, followed by USDA Prime ribeye with black truffle sauce and sautéed wild mushrooms. Served with creamy cauliflower au gratin and white cheddar potato purée. Dessert is coffee stout sticky toffee pudding.
Add-on signature dishes such as An's famous garlic noodles or roasted crab. A caviar package for $65 is available as well as champagne selections to complete the takeout feast.
Three-course dinner for 2, $175, excluding tax
Preorder 48 hours in advance. Limited quantities
Available for pickup through January 3
To order online click here, call 714.557.5679 or text 714.504.2822
TERRACE BY MIX MIX AND HAMAMORI COLLABORATION
Begin the countdown to New Year's Eve at home with a unique collaboration menu from chefs James Hamamori and Ross Pangilinan. Hamamori will create a lavish platter of pristine sashimi with bluefin tuna, toro, salmon, Hamachi and kanpachi complemented by uni, bluefin tuna, kinme, halibut and sea eel sushi.
TERRACE by Mix Mix will contribute a chef's cheese and charcuterie plate, lobster risotto, beef tenderloin with peppercorn sauce, mushrooms and butternut squash. Dessert is a light tropical panna cotta. Food will be chilled with easy instruction on reheating.
Collaboration dinner for 2, $159, excluding tax
Preorder by 5 p.m., December 29. Pickup December 31, 4-6 p.m. To order online, click here. 657.231.6447 Terrace by Mix Mix and Hamamori are participants in SCP2GO
KNIFE PLEAT
Indulge in a luxe four-course menu from Michelin-starred chef Tony Esnault perfect for New Year's Eve. The menu will be cooked and chilled with simple instructions for service and reheating. Knife Pleat's produce is organic; animal products are 100% pasture-raised, free-range and sustainable. Begin with a fall soup of sunchoke, salsify, parsnip, celery, beluga lentils and Granny Smith apple. Next enjoy Maine lobster salad with romaine, citrus, crème fraîche, lobster essence. The entrée, Beef Wellington, is pasture-raised beef tenderloin, mushroom duxelles, spinach, wrapped in brioche with black truffle jus. Served with rösti potatoes and fall vegetables.
Dessert from pâtissier Geman Biotteau is Bûche de Noël --cognac sponge cake, caramel crémeux and sauce, meringue. A New Year's cocktail for two, The Golden Light, is available for takeout. Knife Pleat also offers holiday caviar service with two sizes of Tsar Nicoulai Russian Golden Osetra that comes with blinis, chive-lemon crème fraiche, mother of pearl spoon and insulated tote. Add Deutz Champagne at special pricing.
Four-course menu for 4, $460, excluding tax. To preorder online, click here. 714.266.3388. For New Year's Eve, order by December 28-29, 6 p.m. Pickup December 30, 12-6pm or December 31, 12-3 p.m.Knife Pleat is a participant in SCP2GO
TIFFANY & CO. BLUE BOX CAFE
Start a New Year's Day tradition with Breakfast at Tiffany for Two or Tiffany Tea for Two. The Blue Box Cafe at South Coast Plaza offers curated menu packages to enjoy at home. Orders are placed online and require 48 hours' notice prior to picking up.
BREAKFAST AT TIFFANY FOR TWO The bento box packaged menu includes chia seed yogurt pudding with farmer's market fruit, croissants with organic strawberries and lavender mascarpone, Tiffany avocado toast, smoked salmon and buckwheat mille-feuille, and Bellocq No. 727 The Tiffany Blend: A floral infusion of Chinese and Ceylon black tea with notes of lychee, rose buds, lavender, and vanilla.
TIFFANY TEA FOR TWO The impressive array features different scones--cranberry citrus and pine nut brown butter--and sage-red kuri squash Madeleines served with Devonshire cream, cherry ginger marmalade, and wildflower honey. An assortment of creative tea sandwiches is complemented with a generous selection of petit fours and confections. Included is a tin of Bellocq No. 727 Tiffany Blend Tea.
All may be ordered as an optional deluxe set that includes Tiffany signature china and accessories for an additional charge. Breakfast for 2, $120, excluding tax. Tea for 2, $150, excluding tax. For more details and to preorder 48 hours in advance online, click here 714.540.5330, press 7. Tiffany's Blue Box Cafe is a participant in SCP2G0
VACA
Chef Amar Santana offers four signature three-course family meals on New Year's Eve that serve two, four or six guests with flexible ordering and pickup times.
Entrée choices are prime ribeye, prime skirt steak, paella Valenciana or paella de vegetables. Each dinner includes salad, two side vegetables, and a dessert choice of tres leches cake or Mama Santana flan. Family meal prices range from $75 to $336 depending on the menu selected and a number of guests, excluding tax/ Preorder through December 31 until 7 pm; pickup 4-9 p.m. To order online, click here. 714.463.6060
SEASONS 52
Perfect for New Year's Eve or New Year's Day is a Seasons 52 Green Box dinner. Each box serves four to six and is freshly and naturally prepared and under 595 calories per serving. Food is chilled and ready to be reheated when convenient. Advance 24-hour preorder required.
Holiday Green Boxes feature a choice of two entrees: whole side of cedar plank-roasted salmon with dill mustard sauce or Kona crusted wood-grilled beef tenderloin with aged balsamic demi-glace. Menu includes a choice of salad—field greens or romaine Caesar. The main course is served with lemon-parsley marble potatoes and a choice of vegetables. Finish with six Mini-Indulgences, selecting from turtle cheesecake, raspberry chocolate chip cannoli or Belgian chocolate s'mores. Salmon Green Box for 4-6, $125, excluding tax. Tenderloin Green Box for 4-6, $165, excluding tax. 24-hour preorder required. To order online, click here. 714.437.5252
Seasons 52 is a participant in SCP2GO
THE CAPITAL GRILLE
The Capital Grille offers a premium four-course family-style dinner for New Year's celebrations at home that serves two or four guests. Includes simple instructions for warming.
Select from two entrée options: A Capital Grille exclusive—a whole rack of bone-in filet with truffle butter and horseradish cream or Kona crusted bone-in prime rib with caramelized shallot jus and horseradish cream. Start with New England clam chowder followed by a field greens salad served with seeded French rolls. Sides are lobster mac and cheese, grilled asparagus and Sam's mashed potatoes. End on a sweet note with flourless chocolate espresso cake. Four-course dinner for 2, $165, excluding tax; for 4-6, $300, excluding tax. 24-hour preorder required. Available for pickup December 30-31 only
To order online, click here. 714.432.1140. The Capital Grille is a participant in SCP2GO
MORTON'S THE STEAKHOUSE
Morton's offers a special takeout menu featuring Châteaubriand for Two for New Year's.
The three-course dinner starts with a winter salad of mixed greens, spiced walnuts, and blue cheese crumbles with balsamic vinaigrette. The châteaubriand, cooked to guest's preference, is with roasted shallots, red wine demi-glace reduction and sauce Béarnaise. Black truffle mashed cauliflower, creamed spinach, and sour cream mashed potatoes accompany the tender prime beef. Dessert is La Bête Noir--flourless chocolate cake with whipped cream and fresh berry coulis. Other takeout options are available.
Châteaubriand Dinner for 2, $154.50, excluding tax to preorder by December 29, 6 p.m., click here. 714.444.4834
---
More Daily Doses