Greer's Daily Dose
Spring Fashions Solutions
02.28.13
When it comes to shopping for coveted jeans it's hard to beat the denim bar, Solutions The Premium Denim Store in Newport Beach. Owner, Susan Cianciulli Bailey scours the universe to find the latest denim, from trend-setting Siwy Denim to LA based and celebrity favorites Sinclair.
Solutions will have the denim that will quickly become your favorites in ultra flattering styles. And now's the time to find great deals at Solutions; its Spring tent sale starts today through Saturday. You can save up to 75% off on great denim for men and women, as well as dresses, tops, shoes, and accessories. Solutions carries favorite denim brands such as Hudson, AG jeans, LA based Sinclair, Genetic, Paige, and Citizens of Humanity. For men, there are Joe's, AG, and Hudson denim to choose from.
Open 10 a.m. to 6 p.m.
Solutions is at 1719 Westcliff Drive in Newport Beach. 949.650.0479.
Stars on Ice Now & Then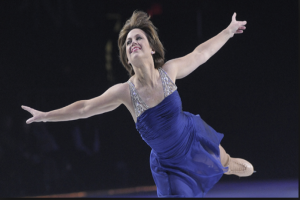 The darling of ice skating world since the '70s, Dorothy Hamill will join The Stars on Ice Now & Then Tour on Saturday at 7:30 p.m. at the Honda Center in Anaheim. This rare performance will give fans the opportunity to see premiere figure skating legends performing together in both individual and ensemble routines.
Joining Dorothy Hamill on the tour are world-renowned athletes, including Four-Time World Champion & Four-Time Canadian National Champion Kurt Browning; Two-Time Olympic Gold Medalist Ekaterina Gordeeva (Russia); 1998 Olympic Gold Medalist Ilia Kulik (Russia); 2010 Olympic Bronze Medalist Joannie Rochette (Canada); U.S. National Champion Ryan Bradley; Two-Time European Bronze Medalists and Seven-Time British National Dance Champions Sinead & John Kerr; Two-Time U.S. Dance Bronze Medalists Kimberly Navarro & Brent Bommentre; and Canadian National Silver Medalist Shawn Sawyer.
Tickets for the Stars on Ice "Now & Then" Tour are on sale now. Special on-ice seating is available upon request. Tickets start at $25 and are available at the Honda Center box office, www.ticketmaster.com.
Honda Center is at 2695 E Katella Ave. in Anaheim. 714.704.2400
---
More Daily Doses