Greer's Daily Dose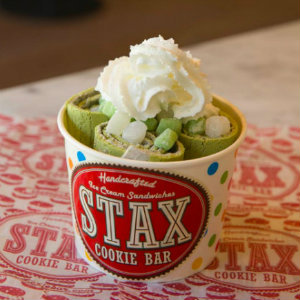 Stax Cookie Bar Debuts Thai-Style Rolled Ice Cream
01.20.17
Two years ago, Stax Cookie Bar in Irvine made a sweet OC debut by offering hand-crafted ice cream sandwiches, sundaes, milk shakes, malts and affogatos. All Stax treats are made with high-quality ice cream and cookies, brownies and waffles baked fresh daily on the premises.
Today, Stax Cookie Bar is one of the first in Southern California to offer the hard to find dessert sensation---thinly rolled Thai-style ice cream. Stax put its own spin on the Thai treat, creating new signature CreamRitos and Duo Layer Rolls---the first rolled ice cream desserts to feature two flavors.
Stax new desserts are hand-crafted with a fresh cream mixture poured and spread onto a negative 31- degree stainless steel wheel. As the thin layer of ice cream freezes, it is expertly shaved into rolls with a metal spatula and artistically served with toppings.
The Cream Rolls, available with yogurt or ice cream, are served in traditional Thai style, upright in a cup and topped with fresh fruit, fresh baked cookie pieces or chocolate syrup.
Stax has also created Duo Layer Rolls, making the ice cream purveyor the first to offer two flavors of ice cream rolled together. Flavor combinations for the Duo Layer Rolls include Black Sesame and Green Tea, Chocolate and Strawberry, Cookie Cream and Coffee, and Strawberry and Green Tea.
CreamRitos, which are served on a plate and resemble mini ice cream-filled burritos, are crafted by topping the thin layer of ice cream on the frozen wheel with another unique-flavored ice cream before shaving it into rolls. The confection is then drizzled with chocolate syrup, pieces of fresh baked cookie, or other toppings of your choice.
Stax has also introduced four new ice cream flavors for the CreamRitos, including Canjun Spicy, Sesame Stick, Ube (purple yam) and Bacon Chocolate Chip. The ingredients are added to the sweet cream mixture as it freezes on the wheel.
Open from 12 p.m. to midnight daily.
Stax is near Mendocino Farms and Eureka in University Center, across from UC Irvine, at 4187 Campus Drive, Suite M174, in Irvine. 949.861.2055
---
More Daily Doses