Greer's Daily Dose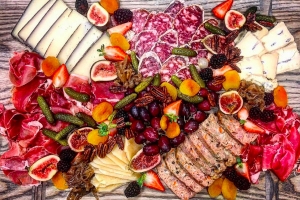 Summer Picnics in the Garden
07.27.20
Provenance's patio and garden are open for limited picnic service from noon to 6 p.m. Thursdays through Sundays. The kitchen closes at 5:30 p.m. with a fine-casual approach to dining. You can order at the bar, take a seat, and all food will be served in disposable containers. The full bar is open and they are offering 50% off all bottled wines, with a corkage fee to drink the bottles on the patio. They also have wines by the glass, and cocktails two go.
Picnic In The Garden - Menu
Sandwiches
Provenance Burger - Handcut Proprietary Blend of 4 Premium Beefs, Caramelized Onions, Provolone Cheese, Organic Lettuces, Heirloom Tomatoes, Handcut Fries and House Ketchup
add Housemade Bacon or a Fried Cage-Free Egg
Tuscan Chicken Sandwich, All Natural Grilled Chicken Breast, Arugula, Asiago Cheese, Pesto Aioli on Ciabatta
Pastas
Kobe Beef Bolognese Spinach Flavored Fettuccine, Rich Kobe Beef and All Natural Pork Ragu, Burrata Cheese, Parmesan
Penne Di Nonna Savory Southern Italian Meat Ragu, Penne Pasta, Meatball, Sausage, Parmesan
Butternut Squash Raviolis Heirloom Spinach, Brown Butter Sage, Shaved Parmesan, Crispy Leeks

For The Table
Pan-Roasted Artichoke Hearts Arugula, White Wine Vinegar, Olives, Shaved Parmesan Cheese
Nonna's Meatballs (2), All Natural Beef and Pork, Tomato Ragu, Parmesan Cheese
Scratch Herb Biscuits(4), Honey Butter
Chef's Selection Of Artisanal Cheeses And Charcuterie Chutney, Seasonal Fruit, Pickles, Olives, Mustards, Accompaniments, Crostinis

Sweets
Housemade Oatmeal Raisin Cookies with Dark Chocolate Ice Cream
Housemade Chocolate Chip Cookies with French Vanilla Ice Cream
Provenance Brownie Dark Chocolate, Walnuts.
Meyer Lemon Square Light flaky crust
2531 Eastbluff Dr, Newport Beach. 949.718.0477.
---
More Daily Doses