Greer's Daily Dose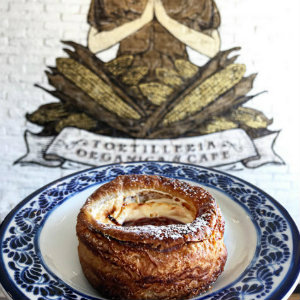 Taco Mesa Expands with GMO-free Tortillería & Cafe
06.02.17
For the past 25 years, Ivan Calderon, founder and chef of Taco Mesa and Taco Rosa has pioneered healthy Mexican cuisine in Orange County. And now his newest concept, Taco Mesa - Tortillería Orgánica & Café in Orange continues and expands on the theme: this one has artisan GMO-free corn masa and handmakes tortillas for all six locations: Taco Rosa in Irvine and Newport Beach; and Taco Mesa in Costa Mesa, Mission Viejo, and Ladera Ranch.
A staggering 92% of all corn in the world is genetically modified. In February, Calderon made the switch to GMO-free corn at all six of his locations, but the opening of Taco Mesa - Tortillería Orgánica & Café gives him control over sourcing, along with the creative freedom to mix unique corn masa blends that incorporate superfoods and spices. Calderon is also sourcing organic greens and edible flowers from hyper-local, eco-friendly farmers including Adam Navidi's aquaponic Future Foods Farms in Brea, and heirloom produce from Black Sheep Farms in Riverside; and offering sustainably caught wild seafood guided by Monterey Bay Aquarium Seafood Watch whenever possible.
Taco Mesa - Tortilleria Orgánica & Café expands its offerings to include gluten-free, vegetarian, and vegan options, as well as organic grab-and-go fresh salads, hot entrees, aguas frescas, and organic cold-pressed juices. It also features an expanded pastelería displaying fresh-baked Mexican pastries including meringues, tres leches, and profiteroles, in addition to innovative pastries using ancient grains and healthier ingredients developed exclusively for the café . Adjacent to the pastry display is a sleek Modbar espresso station - the first of its kind in Orange County - serving direct trade Stumptown Coffee.
With the capacity to produce 200 dozen tortillas per hour, Calderon intends to wholesale his GMO-free corn products to local retailers and restaurants.
"This evolution is about something much bigger than our brand," added Calderon. "We want to create a catalyst for change in our industry, both locally and worldwide. We intend to do so by selling our GMO-free corn masa and tortillas to other restaurants and by furthering the evolution of our brand by creating a replicable model that will take GMO-free corn and true Mexican cuisine overseas."
Open daily from 7 a.m. to 10 p.m.
Taco Mesa Tortilleria Orgánica & Café is at 3533 East Chapman Avenue, Orange. 714.633.3922.

---
More Daily Doses