Greer's Daily Dose
Taste Balboa this weekend
04.10.14
What are you craving? Pasta? Seafood? Burgers? Pizza?
On Sunday, no matter your craving, head over to Balboa Village for Taste of Balboa and enjoy some of your favorite dishes from your favorite Balboa spots. The celebration, which lasts from 11 a.m to 4 p.m. on April 13, is part of the kick off for the annual Newport to Ensenada International Yacht Race, but you can enjoy dishes from $1 to $10 from Bella Luna Café, Cruisers: Pizza Bar Grill, Cucina Alessa, Harborside Restaurant, Mint Leaf Thai Cuisine, Newport Landing Restaurant, Ruby's Diner, Sabatino's Lido Shipyard Sausage Company, The Porch and The Sliding Door Cafe.
Besides the food, there will be live entertainment throughout the day, kid-friendly activities and plenty of boats for you to check out with the family.
Tickets are sold at the event and they will accept both cash and credit cards.
Taste of Balboa is at 600 East Bay Avenue in Newport Beach, at the corner of Balboa Blvd. and Palm St.
Burger and beer night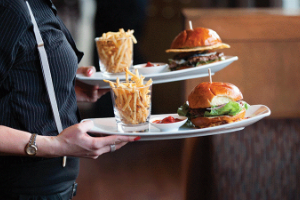 Every Thursday at Chapter One: The Modern Local in Downtown Santa Ana, you can order a DE-licious 9 oz. burger and score yourself a select draft craft beer for only 25 cents! While the live DJ spins, you can also enjoy $4 Berry Jameson shots, $2 Old Chubs and $6 Moscow Mules.
Let's get back to the burgers though. Chapter One's burgers are all made with local and seasonal fare so you know you're getting the freshest ingredients while you chow down. Plus, these aren't ordinary burgers - you can choose from your typical beef, or go adventurous with the lamb, pork belly or brisket!
Chapter One is located at 227 N Broadway in Santa Ana. They are open until 2 a.m. every night.
---
More Daily Doses